Bumble is a well-known dating application that has seen a meteoric rise in usage over the past several years. The software is based on the user's location and makes it possible for them to discover suitable dates in their immediate area.
Online dating can be complex but since the rise of AI tools like ChatGPT, people have been getting a lot more assistance. People are using ChatGPT to help them impress people on online dating. You can try it too. Check out 51+  ChatGPT Prompts for Bumble.
A great number of individuals are curious about the meaning of this "~" symbol and whether or not it suggests that the user has not activated the application in a while.
The absence of the ~ icon does not necessarily mean that a user has been inactive, but it is still a good indicator of whether or not they are currently using the app.
In this piece, we'll investigate whether or whether the Bumble symbol "~" indicates that the user has been inactive, and what that would mean.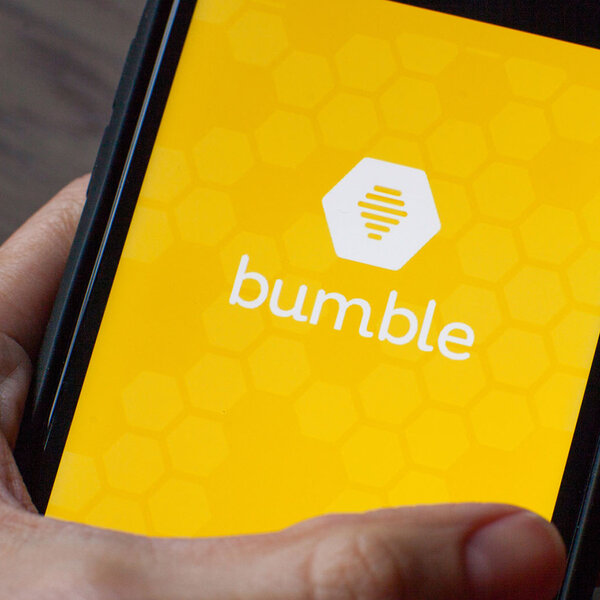 ---
Does the "~ on Bumble" mean that the user has not opened the app in a while
Short answer: No "~ on Bumble" does not mean that the user hasn't used the app in a while. If you see the ~ symbol before a user, it just means that the distance between you and the user is an estimate and not exact.
A mobile dating app, Bumble pairs users based on age and location. Both appear in a profile's footer.
On their profile, Bumble users can see how far away they are from each other. Some may incorrectly assume that if someone's location is shown on Bumble, it signifies that they are actively using the app because Bumble dynamically adjusts the location based on where the user is.
If you see a symbol before a distance to a user, it only means that the distance is approximate and not exact.
But for looking at where they have been recently, there is no way to tell how active a Bumble member is just by where they are.
Nevertheless, the app can only pinpoint your location when it is actively running, so if the distance between you and the other person has changed, and you didn't move, it is likely that they have launched the app.
Thus, Bumble will not update a user's location if the app is not actively being used. Until you open the app again, your last known location will be displayed on your Bumble profile
In Bumble, the ~  sign does not indicate that the user has not recently opened the app. Instead, it shows how far apart the users are from one another.
---
What does "~" mean on the Bumble location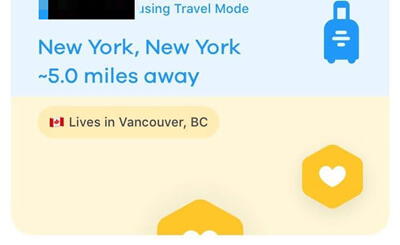 Short answer: The "~" symbol appears when the bumble app is estimating the distance between you and another user.
When it is attempting to calculate an estimate of the distance between you and another user, the Bumble app will show a sign "~".
For instance, it will display 5 miles when you are only around 5 miles away from them at that point in time.
Bumble displays users who are nearby based on their geolocation using this information. Your precise location can be displayed on a map thanks to a feature called geolocation, which is provided by your cellular provider.
The user can now modify their criteria and the distance range they are looking at from this point on the map. Bumble will locate all the users in a certain distance radius, which refers to the region immediately surrounding them.
Sometimes, Bumble will display an approximate distance because the users are on the cusp of where Bumble can locate them.
This is because Bumble uses a predetermined series of pinpoint locations to locate users, but it can only do so when the app is active on the user's device.
---
Why does Bumble sometimes show distance in miles and sometimes not
Short answer: Bumble sometimes shows the distance in miles and sometimes doesn't because the distance is too far, or they have a "Snooze Mode" feature turned on.
Like many other dating apps, Bumble makes use of location services to assist its users to find suitable local connections. Users are prompted to provide their locations during the profile creation process on Bumble. The user's location is used to determine how far away to show prospective matches. Users of Bumble may have noticed that the distance is not always displayed in miles.
Users in the United States will see the distance shown in miles by default on Bumble. It's possible that Bumble users in other countries will see the distance indicated in kilometers rather than miles. This is because presenting distances in kilometers is more user-friendly in nations where the metric system is more widely used.
Depending on the user's location settings and the choices of the other person they are matching with, Bumble may display distance in miles or kilometers.
On occasion, the app will only display the location without the distance if the user is too distant from a Bumble geographical landmark
A user can also put their account into "Snooze Mode," which conceals their whereabouts from observers until they activate it again. The purpose of this is to give people a rest while using the service.
When the user is out of range or in snooze mode, Bumble will sometimes show the distance between them, and other times it won't. If the user travels more than 99 miles, there will be no location available to follow them once they reach that barrier.
---
SEE ALSO:
8 Fixes : Bumble Stuck On Loading Screen
Fix : Bumble Messages Not Showing Up
---
Final Words
Location is an essential component of mobile dating applications since it is simpler to form relationships with people who live in close proximity to one another. It is more difficult to see and meet long-distance mates on a consistent basis.
I really hope that we were able to answer all of your questions about this subject; if we did, please let us know.
Technical writer and avid fan of cutting-edge gadgetry, Abhishek has authored works on the subject of Android & iOS. He's a talented writer who can make almost any topic interesting while helping his viewers with tech-related guides is his passion. In his spare time, he goes camping and hiking adventures.
---
Stay connected with us for the latest updates! Follow us on Telegram and Twitter to join our vibrant community and never miss out on any exciting content."