Is there someone you may have accidentally offended with a message you sent? Fret not, since WhatsApp's "Delete for everyone" function is there to save the day.
Given that this has occurred to all of us, we can empathize with how irritating it is to accidentally convey the incorrect meaning to the wrong person and be unable to rectify the situation. There might be misunderstandings and other complications as a result.
Consequently, we have devised a foolproof method that will get you out of this jam in no time. Sure enough, you've guessed correctly: we're discussing WhatsApp's "Delete for Everyone" function.
What is this miraculous feature that might save your life? Keep reading to find out!
---
Does "Delete for Everyone" option on WhatsApp remove media from gallery?
Short Answer: If you're using an Android phone, the media in the gallery of the recipient will be deleted when you tap the "Delete for Everyone" option in WhatsApp. But iPhone users whose conversations include media files will be able to save such files permanently if they have the "Save to Camera Roll" option activated.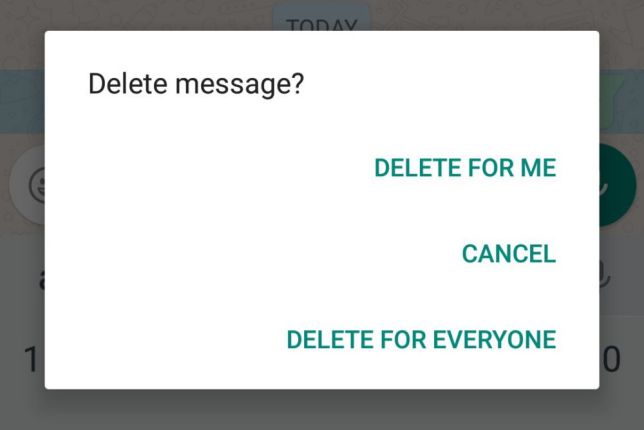 Owing to a difference in the way the function operates on Android devices and iPhones, the WhatsApp 'Delete for Everyone' option, which is meant to allow you to remove texts and files you sent by error, may nevertheless leave a trail of your conversations.
It was reported by researcher Shitesh Sachan that even if deleted WhatsApp conversations with media files would be inaccessible in WhatsApp, the data will still be accessible to iPhone users who have 'Save to Camera Roll' activated.
WhatsApp for Android, on the other hand, handles functionality differently. When a user selects "Delete for Everyone," all attached files, including those stored in the recipient's Android picture gallery, are deleted. Android users who aren't acquainted with how the function works on iOS devices may be misled by the differences between the two OS.
After the researcher informed WhatsApp about the issue, a representative from the firm said there is no assurance media files would be deleted completely from users' devices.
---
What does "Delete for Everyone" option on WhatsApp do?
Messages sent to a single person or a group may be removed from the conversation permanently by selecting "delete for everyone" from the menu. This is especially helpful if you accidentally send a message to the incorrect chat or if the message you sent has an error.
Several years ago, in 2017, this "Delete for Everyone" feature was introduced. If there's one thing that will keep you from feeling awkward while using this chat service, it's this feature.
Nevertheless, there is, of course, a catch to this feature, as there is to everything else. You can undo the damage of sending the incorrect message by erasing it, but you cannot erase any record of it.
There is a label that reads "This message was deleted" that appears in the chat window after you remove a message. What this implies is that the other party learns that you have erased a message from their inbox.
This function allows you to remove any kind of media, including written text, images, videos, and audio. But for individuals utilizing WhatsApp on their iPhones, the media transmitted in a message could still be preserved in their gallery.
This is because WhatsApp cannot access the device's gallery without user authorization, as per Apple's privacy policy.
---
"Delete for Everyone" option in WhatsApp time limit
With the new update, WhatsApp users have up to 60 hours after sending a message to erase it and thereby undo an unintentional send. Formerly, this time restriction was 1 hour, 8 minutes, and 16 seconds.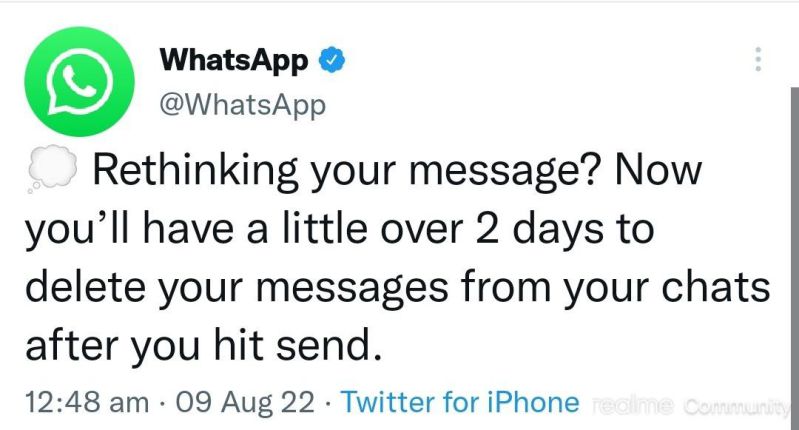 The popular messaging app WhatsApp has recently released several useful updates. Among them is the option to erase texts after they have been delivered in case of error or inappropriate content.
Those messages may be erased from the user's inbox for up to 60 minutes at the moment. Now, users of the instant messaging software owned by Meta will have more than two days to delete a message.
Originally in 2017, when WhatsApp's capability to delete a message was launched, users had only seven minutes to revoke their messages. Since then, that period has been extended to one hour and eight minutes. It has settled on a period of two and a half days as per this latest August 2022 update.
---
FAQs
1. How should I use the "Delete for Everyone" feature?
Here's how to utilize the "Delete for everyone" function.
Step 1: Start WhatsApp
Step 2: Navigate to the message you wish to remove.
Step 3: Click and hold the message
Step 4: Select the Delete option.
Simply choose the Delete symbol (also known as the Dustbin icon) from the top menu bar. There, you'll be presented with three options: Delete for Me, Delete for Everyone, and Cancel.
Step 5: Select "Delete for Everyone."
Just click "Delete for Everyone" to get rid of the erroneous message you sent out.
---
Final Words
That concludes our discussion of the "Delete for everyone" option. Using this carefully compiled manual, we hope you can avoid any embarrassing misunderstandings. Having the ability to erase undesirable messages from private or public conversations makes this tool invaluable.
It's easy to make a mistake in communication, and it doesn't matter much as long as the intended recipient finds the message humorous. However, the scenario could turn nasty and humiliating when you accidentally email something inappropriate. You may remove a message for both the sender and the recipient using the "Delete for Everyone" option.
---
Read more:
When You Delete A Message On WhatsApp Can Other Person See It
If You Delete A Whatsapp Message, Does It Still Show In Notifications
If I Delete A WhatsApp Chat, Will I Still Receive Messages From That Person?
If Someone Blocked You On WhatsApp, Do They Disappear From Contacts?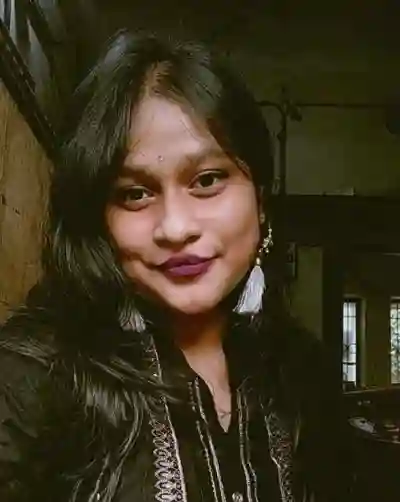 An anime aficionado who also maintains a keen interest in global developments in the fields of technology & gadgets. In her downtime, she can be found trying out all possible varieties of dumplings. A strong believer in animal rights, she can't help but pet every cat she sees.