It appeared to have begun with a very minor problem, in which users of Spotify were unable to view the lyrics of songs they were playing through the web player. Despite this, the issue was rapidly eclipsed by that the web player was not functioning properly and was down.
The users of the app rushed to various social media platforms in an attempt to figure out what was going on. There have been reports from numerous Spotify users that they are experiencing serious problems while attempting to use the web player. The following message was displayed to the users instead of the page loading properly, as reported by the Users:

"upstream connect error or disconnect/reset before headers. reset reason: connection failure, transport failure reason: delayed connect error: 111"
If you've stumbled upon the Upstream Connect Error while using Spotify, you've come to the right spot to find a solution.
---
Why is my Spotify upstream connect error or disconnect/reset before the headers?
Short answer: Your Spotify upstream connect error or disconnect/reset before the headers because there's a problem with the connection between your Spotify web player and the Spotify servers. This could be caused by slow connections, old browsers, or problems with the Spotify server.
The Spotify website experienced an upstream connect fault, which resulted in a significant number of customers being impacted. Due to the chaos taking place online, users are unable to access the Spotify homepage and cannot listen to their playlists.
To begin, it is important that you are aware that this error may have been brought about by an issue with the server. This issue occurred because of the connection between the Spotify web player and the server which is the reason for this issue. Possible causes for this pause include a slow connection, an out-of-date web browser, or Spotify server problems.
Therefore, there is nothing that you as a user can do on your end to help fix this issue. Your ability to remain calm and composed throughout this challenge is one of your most valuable contributions.
The relevant Spotify employees immediately began looking into the matter as it was brought to their attention, and they have now shared their findings with the Spotify Community.
While this technical issue has been addressed, not all users will experience a resolution at this time. In the event that you are still experiencing the problem, you will soon be able to use it regularly as a result of the solutions that we will provide for you in the section below.
---
How to fix Spotify upstream connect error
If you're having trouble getting Spotify to load or a specific feature to work, you probably can't relax and enjoy the time you have at your disposal right now.
If you stick to these tried-and-true tips, you won't be without your favorite tunes for very long.
Method 1 – Check the Internet connection
If you're experiencing the issue "Spotify upstream connect error or disconnect/reset before headers. reset reason overflow," it's likely due to a slow or inconsistent internet connection. This can be remedied by ensuring a constant and rapid data transfer rate via the internet to your device.
If you're having trouble with your wireless network, try switching networks or power cycling your router. If you prefer a hardwired connection, check that the cable connecting your device to the network and the internet is in good shape and working properly.
---
Method 2 – Check Server Status
Despite the fact that Spotify is a dominant player in the streaming industry, the platform is not immune to experiencing technical difficulties. Because it offers such a wide variety of services, there is a lot of space for errors and other kinds of technical problems. And if this happens, it's possible that users won't be able to access Spotify until the developers have fixed the problem.
And the issue with the server is the primary obstacle for "upstream connect error or disconnect/reset before headers. reset reason: connection failure, transport failure reason: delayed connect error: 111"
The good news is that fixing technical issues typically does not take a very long time. Additionally, you can check the server status using downdetector.com.
---
Method 3 – Update the browser
Updating your browser keeps you safe, ensures that pages load quickly, and gives you access to the most recent features. This issue can also be brought on by using an out-of-date web browser. If your browser isn't up-to-date, try updating it to see if that helps. To see if your browser has any updates available, select "About" from the browser's Help menu.
Do as instructed on the screen to update if one is available.
 Step 1- Start up Google Chrome.
Step 2- For further options, select the ellipses three dots in the window's upper right corner.
Step 3- Choose "About Google Chrome" from the "Help" menu.
Step 4- If a newer version of Chrome is available, it will automatically download it.
---
Method 4 – Clear the cache on the browser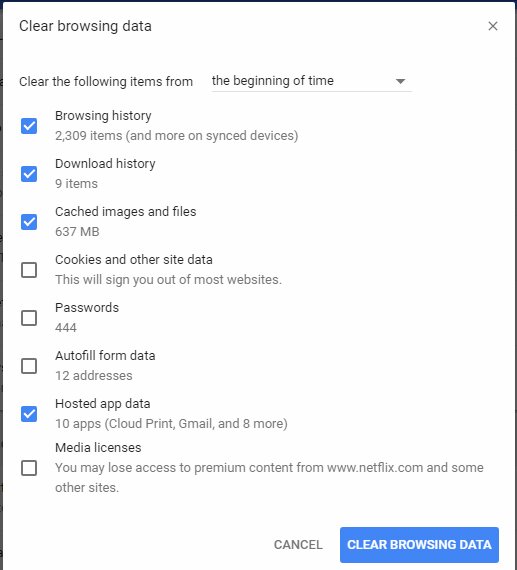 Clearing the cache and cookies in Google Chrome can assist in resolving certain issues, including Spotify's upstream connect error or disconnect. This is because doing so will remove all website data and cached data that was kept in the browser. This is the procedure to follow:
 Step 1– Launch Google Chrome on your device.
Step 2- Click the More button that's located on the top right.
Step 3- After clicking More tools, select Clear browsing data from the drop-down menu.
Step 4– Select a time range using the drop-down menu at the top. Choose the time option to remove everything.
Step 5- Put a checkmark in the boxes that are located next to "Cookies and other site data" and "Cached pictures and files."
Step 6– Click the Clear data button.
---
Method 5 – Restart the Spotify web player
Restarting the Spotify web player will sometimes resolve the Spotify upstream connect error. To restart the web player, just close it and open it again. You should switch to a new tab if you are already using one.
This is the correct way to carry things out.
Step 1– Exit out of the Spotify web player tab.
Step 2- Just launch a new browser tab and enter open.spotify.com to access Spotify's web player.
Step 3– If asked, sign in to your Spotify account.
Step 4- Make an effort to play a song or a playlist to check and see whether the problem still exists after it has been fixed.
---
Method 6 – Disable the firewall and antivirus.
It has been claimed by several users sometimes the "Error connecting to Spotify's upstream, or connection reset/disconnection before headers. clear the mental overflow "It's possible that security software like a firewall is to blame for this problem. Try temporarily turning off these applications to check if the problem still occurs.
For Firewall:
Step 1- Search for "Control Panel" in the Windows start menu.
Step 2- Access the Windows Defender Firewall 
Step 3- Choose "Turn Windows Defender Firewall on or off" from the menu that appears.
Step 4- Both for public and private networks, choose to Turn down Windows Defender Firewall.
For Antivirus:
Step 1– Click the Start button, then enter "Windows Security" in the search bar.
Step 2- From the list of programs found, choose Windows Security; then, under "Virus & threat prevention,"
Step 3– To adjust your anti-virus and malware protection settings, go to the menu and click on Manage settings.
Step 4- Turn off Real-time security. Remember that preplanned scans will proceed as usual.
---
 Method 7 – Turn off VPN
In order to access restricted content, many people today use virtual private network (VPN) services to mask their real IP address and so avoid IP-based geolocation restrictions. On the other hand, Spotify does take steps to prevent users from using VPNs, therefore it is important that you disable this feature. This has been helpful to a significant number of users.
---
 Method 8 – Reset the network
When you reset the network settings on your Device, both the cellular and WiFi network configurations will revert to their original, factory values. When you perform a reset, any virtual private network (VPN) configurations that you might be utilizing will also be deleted.
Instructions for doing so can be found here:
Step 1– Simply select "Settings" from the Launch Menu.
Step 2– The Internet & Network tab is where you need to go.
Step 3- You need to be in the Status tab. Simply select the Reset button to reset the network.
Step 4- If you want to restart your computer, select the Yes button.
---
Method 9 – Use The app instead of a web player
Some consumers have found that switching to Spotify's mobile app from the website player is an effective way to fix the upstream connection error. Spotify's unique UI and expanded set of playback controls are just two examples of how the app improves upon the standard web-based streaming service.
---
Method 10 – Contact support
If none of the aforementioned measures are successful in fixing the Spotify upstream connect issue or the disconnect error, you may need to contact Spotify support for more assistance; they will most certainly aid you with this matter.
---
SEE ALSO:
Fix : Spotify Sleep Timer Not Working (Unavailable When Casting)
Fix : Unable To Browse Music Sonos (Apple Music & Spotify)
How To Play Spotify In The Car Without Aux
---
Final words
If you've been scratching your head trying to figure out how to fix the Spotify upstream connect error, we hope that this post was able to provide you with some insight.
However, if you read this article carefully and follow the procedures that are explained in it, you should be able to quickly and effectively fix the problem and get back to listening to the music you enjoy.
Technical writer and avid fan of cutting-edge gadgetry, Abhishek has authored works on the subject of Android & iOS. He's a talented writer who can make almost any topic interesting while helping his viewers with tech-related guides is his passion. In his spare time, he goes camping and hiking adventures.
---
Stay connected with us for the latest updates! Follow us on Telegram and Twitter to join our vibrant community and never miss out on any exciting content."