In this article, we will be listing some of the known reasons why Plex displays the 'The server is not powerful enough' error.
There has been a running thread on forums regarding this error message popping up for several unfortunate users.
We totally understand the inconvenience caused to you and for solving that we are going to address this issue and give you multiple ways to solve it.
---
Also Read: Plex vs Plex Pass : All you need to know about paid Plex Pass
---
Why do I get Plex's 'Server not powerful enough' error?
There are several reasons why Plex displays the 'Server not powerful enough' error such as it can occur in the cases where your media may actually be compatible with your Plex app, but you have your streaming video quality set or Plex Media Server is unable to transcode the content.
For instance, you might have set a lower bit rate of 4Mbps in the app when you actually have a file of higher resolution with 12Mbps, the Plex server compares the limitations set in the app to the media files. And since it isn't capable of transcoding the file, it cannot fulfill your request and displays "Server not powerful enough".
Again, this type of error usually happens when the system running Plex Media Server is unable to transcode the content.
For example, NAS devices that use ARM-based processors have capabilities low enough that transcoding is simply disabled altogether for them in the Plex Media Server.
It's usually for this reason that your screen displays "Server not powerful enough" and no other reason.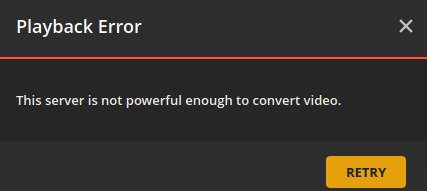 ---
How to fix Plex's 'server not powerful enough' error message.
Method 1 – Setting the Streaming Quality
As mentioned above earlier, the media may actually be compatible with the Plex app, but you have set a limitation of the quality of the file and because of that the Plex Media Server cannot transcode the contents.
When you connect to Plex Media Server and request video playback, the app notifies the server that it can only handle up to a certain Mbps. The server then compares the particular limits with the media file and realizes that the media must be transcoded to a compatible version with the required Mbps.
However, the server cannot transcode and therefore cannot fulfill the requests made by the user. Therefore, indicates the said above message.
So, you need to check throughout the app setting whether you have set particular limitations for the quality of the content and if it's the case, you can consider reducing the streaming of your app's video quality settings. This will greatly help improve the efficiency of the Wi-Fi connection and achieve the desired results.
---
Method 2 – Disable the Steam video transcoding
You can try to disable the Steam video transcoding and use hardware acceleration whenever possible. This will make the Plex server much more efficient to convert videos to Plex-friendly content.
Full acceleration of the hardware quickens conversions without compromising quality.
---
Method 3 – Upgrading NAS devices
Another useful method used to solve the issue of  "Server not powerful enough" is that you can try to upgrade your NAS devices, and therefore it will aid your Plex server to increase its power.
Furthermore, it provides a way to significantly improve efficiency levels.
---
Method 4 – Transform 4k/HEVC content to a more Plex-friendly format
Lowering the file size and resolution to a more compatible format like MP4 file, H.264 video, and AAC 2.0 audio by using third-party apps or other computers will help you to solve issues regarding the server not being powerful enough.
This will help a lot to access videos with high accuracy.
You can read up about this from the official Plex Website Support page.
It is important to follow the steps properly that pave ways to improve the performance levels of the Plex server effectively.
---
Method 5: Use Plex for Windows instead of Plex Web
If you are using Plex Web and getting the server not powerful enough error, try using the Plex app for Windows.
Plex for windows is a very good client with a lot of compatibilities. It even supports ASS subtitles.
---
Method 6: Uninstall and Reinstall Plex
Uninstalling and reinstalling Plex seemed to have fixed a lot of issues while streaming. So, why don't you give it a try.
Here are the steps for uninstalling Plex from your system:
Windows:
Open the Control Panel.
Click on "Programs and Features" (or "Add or Remove Programs" if you're using an older version of Windows).
Locate Plex Media Server in the list of installed programs and click on it.
Click the "Uninstall" button.
Follow the prompts to uninstall Plex Media Server.
macOS:
Open the Finder and navigate to the Applications folder.
Locate the Plex Media Server app and drag it to the Trash.
Empty the Trash.
---
Method 7: Disable your VPN
A VPN (Virtual Private Network) is a service that encrypts and redirects your internet connection through a remote server. While using a VPN can provide added security and privacy, it can also cause issues with streaming services like Plex if the server you're using is not powerful enough to handle the added encryption.
If you are using a VPN and are getting the error "The server is not powerful enough" when trying to use Plex, one possible solution is to disable the VPN and see if the problem persists.
Here's how you can disable the VPN on some common operating systems:
Windows:
Click on the network icon in the system tray.
Click on "Open Network and Sharing Center".
Click on "Change adapter settings".
Right-click on the VPN connection and select "Disable".
macOS:
Click on the Apple menu and select "System Preferences".
Click on "Network".
Select the VPN connection and click on the "-" button to remove it.
---
FAQs
Before wrapping up the article regarding the Plex Media Server, you may also check out the following FAQs for some further useful topics about the particular streaming provider.
Q1. Can two people watch the same movie from different devices at one time on the Plex app?
Yes, with the help of the "Watch Together" feature, you can absolutely play one video using different devices and enjoy it with your friends at the same time!
Q2. Do live TV channels in Plex Media Server require its users to pay?
Plex users are very lucky in the fact that they get to watch live actions with no charges at all. Anyone even without the Plex Pass Subscription can enjoy live TV channels from their home of they only have a supported Plex Player app.
Q3. Does the Plex server know what files do I store on my devices?
The Plex Media Server has already upgraded its app policy which includes the option for users themselves to opt-out of data collection by the app from their respective devices.
Q4. Does Plex have any feature to record streaming videos?
Unfortunately, the ability to record videos requires an active Plex Pass subscription. Once you have that, then It's easy to set something to record.
Q5. What are the devices in which Plex is supported?
Chromecast, Android TV, Roku, Apple TV, macOS, Linux, NAS devices, and Nvidia Shield TV fully supports Plex.
---
Conclusion
When the 'Plex server is not powerful enough' pops up on your screen, you can consider these given ways.
You can also go to the Official Plex Support Page (linked above) when you encounter any other issues for the particular streaming service provider.
If you encounter any other methods, please let us know!
Thank you for reading, and you should check out our other well-researched articles.
---
Further Reading:
(6 Ways) Fix Plex your changes could not be saved error
How to import playlists to PLEX
Fix MKV files not Playing on PLEX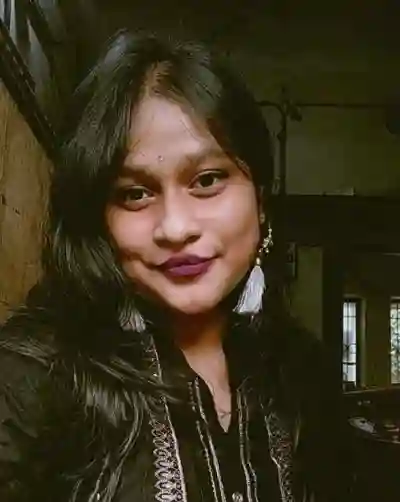 An anime aficionado who also maintains a keen interest in global developments in the fields of technology & gadgets. In her downtime, she can be found trying out all possible varieties of dumplings. A strong believer in animal rights, she can't help but pet every cat she sees.