My5 is Video on demand (VOD) service provided by Channel 5. It was previously known as Five Download and Demand 5 too.
Well, several users have reported and often complain about the my5 is not working on their smart TV.
So, if you are also in the same boat and wondering why is your My5 not working on smart TV? How to fix My5 not working on smart TV? You are at the right place.
Read this article to know all about it.
---
Why is My5 not working on my smart TV?
Short answer: There can be many reasons why My5 is not working on your smart TV such as internet issues, outdated app, my5 server issues, outdated TV firmware, VPN causing connection issues, or other technical problems.

Well, there are always a few ways to fix the problem on your own. Below, we have provided all the possible ways to fix my5 not working or says 'Data syntax error: unexpected token – ab unknown error occurred.'
---
How to fix my5 not working on smart TV?
The following methods help you fix My5 and get it back to working state on smart TV.
Step 1 – Check your internet connectivity
To watch or play content from any streaming service you need a constant and stable network. You can check your network speed in the website, www.fast.com.
Since, it is a TV you would probably connect it to the Wi-Fi. So, check whether your network is stable and if you are able to open or use any other applications when connected to the internet.
If you are having any issues, try restarting your router. If that does not fix it, try to contact your Internet Service Provider (ISP) for a solution.
---
Step 2 – Update My5 application
Updates generally improve upon the older versions of the application while also giving you newer features.
Visit the dedicated application store on your TV.
Search for My5 application.
Check if there are any newer updates available and install it.
Updates for all applications need to be checked weekly. So that you don't get any errors while enjoying or watching your content on any kind of streaming service application.
---
Step 3 – Update your smart TV software
Sometimes, older versions of the TV software become obsolete and will not support newer applications and application updates. In this case, you need to try and update the software if it is available.
Go to the home page of your Smart TV.
Search for the settings icon and select it.
Then, go to the device settings or just search for any software updates available.
If you find one, install it.
Note : As most people do, it is better to buy an external TV stick (like Amazon Fire TV stick) or device than relying on the in-built applications. Because once the application updates it might not support the older version of the device software version.
---
Step 4 – Clear cache for the application
Cache is simply the data collected by an application or website from previous encounters with the user store by the application. This data is used to process future requests faster. Sometimes, cache causes the applications to slow down due to their unnecessary load. This load should be erased frequently to get rid of these issues with the application.
Go to the home page of your smart TV.
Search for settings icon and select it.
Then search for applications in the list and select My5 application.
Select storage settings and you will find Clear Data and Clear cache options. Now, select the clear cache option.
After that, reopen the application and try watching something.
It is recommended to clear cache every day so that you can use the app without any hassles.
---
Step 5 – Check device compatibility
If you are not even able to view the My5 application in the application store on your device, then your device might not be compatible with the application.
You can check out the My5 help center website to check out if your devices support the application or the official website. Visit https://help.channel5.com/hc/en-gb/sections/200243541-Platforms-and-devices.
Note : This step is only for people who don't even have My5 available in the app store. If you have the app but are unable to get it to work, then this is not for you.
---
Step 6 – Sync your device date and time settings
Simple things such as a device's date and time settings may cause you problems with the application.
Visit settings from your smart TV's home page.
Search for date and time settings.
If you have set it manually before, set it to automatic so that it can detect your location and it will set the date and time according to your location.
---
Step 7 – Check if the server is down
Sometimes the servers with a lot of traffic (users accessing the website) crash or are under regular maintenance checks. So, at these moments you would not be able to access or watch the content from My5.
The down detector page for My5 is not available. So, you need to check with the My5 user community or customer support or any of your friends who use My5. Or you can check on the website – https://help.channel5.com/hc/en-gb/categories/200072691-Service-status.
---
Step 8- Power cycle your Smart TV
Power cycling your Smart TV can help clear any temporary glitches or errors that may be causing the issue.
General steps to power cycle a TV:
Turn off your Smart TV and unplug it from the power source.
Wait for at least 30 seconds before plugging it back in.
Turn on your Smart TV and check if the My5 app is working properly.
If you want more specific guides follow some of the guides below:
---
Step 9- Try using a VPN
Using a VPN (Virtual Private Network) can be a possible solution if the My5 app is not working due to regional restrictions.
Some streaming services, including My5, have licensing agreements that restrict their content from being available in certain regions or countries.
---
Step 10- Try another device
If you have tried all the previous troubleshooting steps and the My5 app is still not working on your Smart TV, another option is to try using another device to access the app.
For example, you can try using the My5 app on a smartphone, tablet, or laptop to see if the issue is specific to your Smart TV or if it is affecting all your devices. If the app works on your other devices, the issue may be related to your Smart TV's software or hardware.
---
Step 11- Visit My5 Help Center
My5 Help Center have various divisions such as important notices and popular topics. You can also search questions that you personally want answered.
Also, there are other divisions such as Introducing My5, How to watch, solving problems, FAQs, mobiles and tablets, TVs and Set-top boxes. You can select the TVs and set-top boxes, since you have an issue with the TV.
You can also contact your TV help center, for support from them itself. They can inform you with the facts, telling you what works with your TV and what does not. This information will help you circle out and find out where the problem is.
---
SEE ALSO:
How To Fix My5 Not Working On LG Smart Tv
How To Fix My5 Not Working On Freeview
---
FAQs
Q1. Is My5 available to all countries? Or is it only in UK?
My5 is a by product of Channel 5 and Channel 5 is from UK. So, it is basically only for British television channels and content. Although, you can try watching content from My5 even from other countries. If that doesn't work, you can try using a VPN to watch its content.
Q2. Can I watch My5 on any device?
My5 supports a lot of devices such as Windows, macOS, Linux, Android TV, Apple TV, Now TV, Chromecast, Roku, PlayStation 3,4 and 5, Xbox 360 and Amazon Fire TV too. But look at the supported devices if your model or version is compatible with the My5 software.
Q3. Does My5 have all the live channels on it?
It has all the My5 channels mentioned in the channel. With that it also has Blaze, PBS America, Real Stories, Timeline, BET, Smithsonian Channel and Pluto TV too. It also has new shows and movies including My5 exclusives too.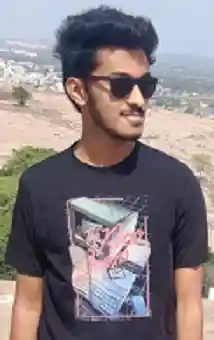 Sri Sahith is a B.Tech graduate specializing in Electronics and Communication. He writes articles by ensuring attention to detail. Any kind of technical revelation or news is his jam. Writing and technology are the things he is most passionate about and you can see it in his articles. Also, he loves to read books and talk about them for hours together.