Facebook-owned WhatsApp has become the default chat messaging app for many people around the world. It makes sense why, too. It's available on a variety of platforms, specifically both iOS and Android. Users can also use the web client or app on their desktop, making it quite convenient. On top of all this, you can share photos, videos, documents, and links with individuals or groups. It can even back up your chats regularly.
All in all, it's a robust messaging client that's easily accessible. Now, it's getting another handy feature in the form of Disappearing Messages. Enabling this feature means that any messages you send to someone will disappear automatically after 7 days. This includes messages that include text or media.
You can enable this on a chat-by-chat basis for both individuals or groups. It is worth noting that only the administrators of group chats will be able to toggle this feature on and off. This feature is available on the latest version of WhatsApp on all platforms, including iOS, Android, and PC.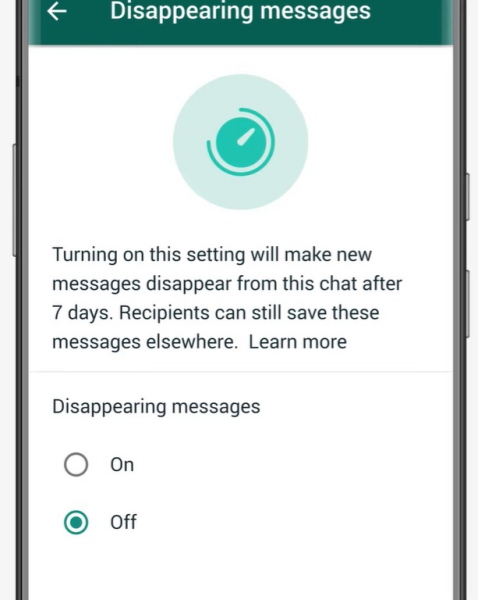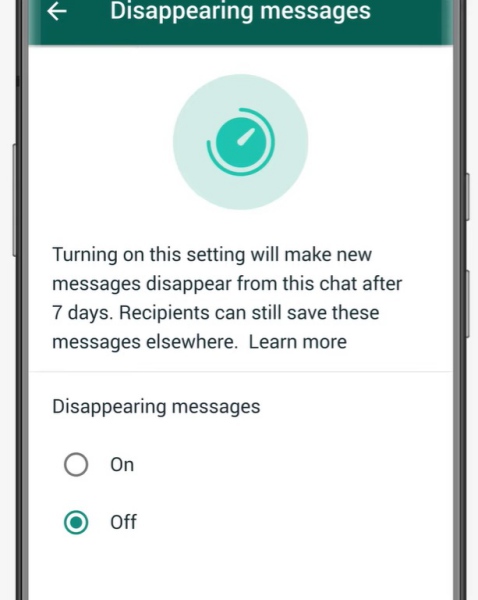 How To Enable Disappearing Messages On WhatsApp On PC, Android & iOS
How do you enable it, then? It's quite simple. The method is the same on all platforms. Disabling disappearing messages also follows the same process. So, regardless of what you're looking to do, or which device you're using, this guide will have you covered.
Open the individual or group WhatsApp chat in which you want to enable/disable disappearing messages.
Tap/click on the contact name at the top of your screen to open up the contact information.
Scroll down till you see the "Disappearing Messages" option. It should be visible above the "Encryption" option.
Tap/click on "Disappearing Messages". Here, you will see the options to either turn it on or off.
There are a few things worth noting about disappearing messages. If you send a picture with disappearing messages enabled, the message containing this picture might disappear. However, if the person you sent it to saves it on their device, it will remain saved there.
Additionally, if someone forwards a disappearing message to another chat, that forwarded message will still contain what you sent. This despite the fact that the original disappearing message will no longer be visible after 7 days. The disappearing message will still be visible in the receiver's notifications if they leave it unread for 7 days, too. While this is an unlikely scenario, it may happen.
Disappearing Messages is a welcome addition to WhatsApp. However, it's clearly not a perfect solution if you don't wish to preserve your messages. Hopefully, this guide answered all of your questions. In case it didn't, don't hesitate to ask in the comments.
Technical writer and avid fan of cutting-edge gadgetry, Abhishek has authored works on the subject of Android & iOS. He's a talented writer who can make almost any topic interesting while helping his viewers with tech-related guides is his passion. In his spare time, he goes camping and hiking adventures.