Ever since Android Pie, Google has put dedicated focus on Android users towards smartphone addiction. It is called Digital Wellbeing. Now, it is true. We have addicted to our smartphones so much that without them, we feel something is missing. Also, most users have developed this weird and harmful habit of checking their smartphones now and then. Even walking on the streets, we still to these bricks. So, to have control over this, they have introduced a new feature called Heads Up.
As the name says, Heads Up is a feature under Digital Wellbeing that will warn you if you are using your smartphone while walking on the road. First of all, the final control is still in your hands. But, this small move will help you get out of those situations where you forget the world around you and immerse yourself into your smartphone. So, here is a quick summary of how it works. Apart from that, you can also know how to enable it if your device supports it.
---
How to use Heads Up in Digital Wellbeing in Android:
As already mentioned, the ultimate right to put your smartphone back in place is in your hands. If you want to, then you will. But, if you do not, then it is up to you. That aside, Digital Wellbeing aims at reducing smartphone addiction and thereby for the wellbeing of users. The Heads Up feature will use your physical activity and location data to warn you in required circumstances. It is pretty much the same way your fitness band collects the data of your steps and distance. So, no extra hardware is needed.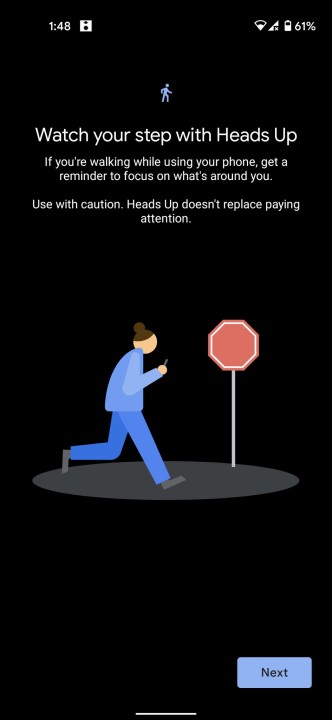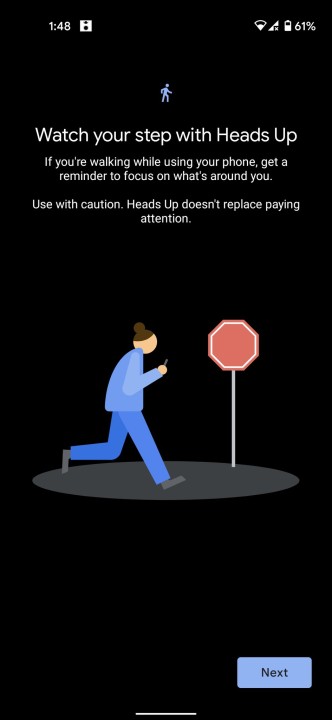 Indeed, you can see the description of this feature in the below image. It says that Heads will not replace paying attention. Fundamentally you are the one to keep a note of this. Coming to the point, you can enable it while you are out. In case of indoor use, you can toggle it OFF. To view this feature, you need to have the latest version of the Digital Wellbeing beta. So, click here, join the beta program (if you haven't already), and update the app. 
With no surprise, the Heads Up feature is only available to Google Pixel devices as of now. We got to know about this update via Jay Kamat when he posted the screenshots on his Twitter account. Let us see if Google has any plans to bring it to all Android devices out there soon.
---
---
Conclusion: 
To sum up, the Heads Up is yet another feature of the list of features under Digital Wellbeing. So, it is interesting to see how the Pixel users will take it. Will it succeed to the expectation or remain as another Google's experimental thing? Lastly, consider sharing this word of news with your friends and tech gang. If you own a Pixel, then check if it is available on your device.