If you know, you know. Discord is really more than a instant messaging tool, it is a powerful platform that can be used to have call, video chats, live streaming with lots and when we mean "lots", we mean a lot of possible modification.
The app simply provides a lot more than your average texting app. It has was more versatility and features that simply tower over most apps today.
And then we have "Better Discord" ! Like it wasn't good enough yet in itself, Better Discords provides users with even more nifty tools and features that enhance the overall experience.
This version of Discord however has only been released for PC platform and for a lot of people using the mobile version of Discord, upgrading to it has been a long must.
Today, we will tell you everything on how to improve you Discord experience on your mobile device with a better Discord version, literally!
---
Does Better Discord work on mobile?
Plain and simple, NO. Better Discord is only available for PC Users and cannot run on either Android nor iOS.
The creators of Better Discord has simply not developed the mobile version of their app yet. That means that users still cannot bring the features and full suit of customizations available on PC.
However, not all is lost as there has been another app that does pretty much does the same as Better Discord: Bluecord !
Bluecord is an android only mod that serves a very similar purpose like Better Discord does by bringing to the table many quality of life improvement to the already popular app.
Bluecord is basically written on Java and Smali and has been made keeping in mind the same objective as Better Discord. To bring better quality of life improvements and user flexibility on the app.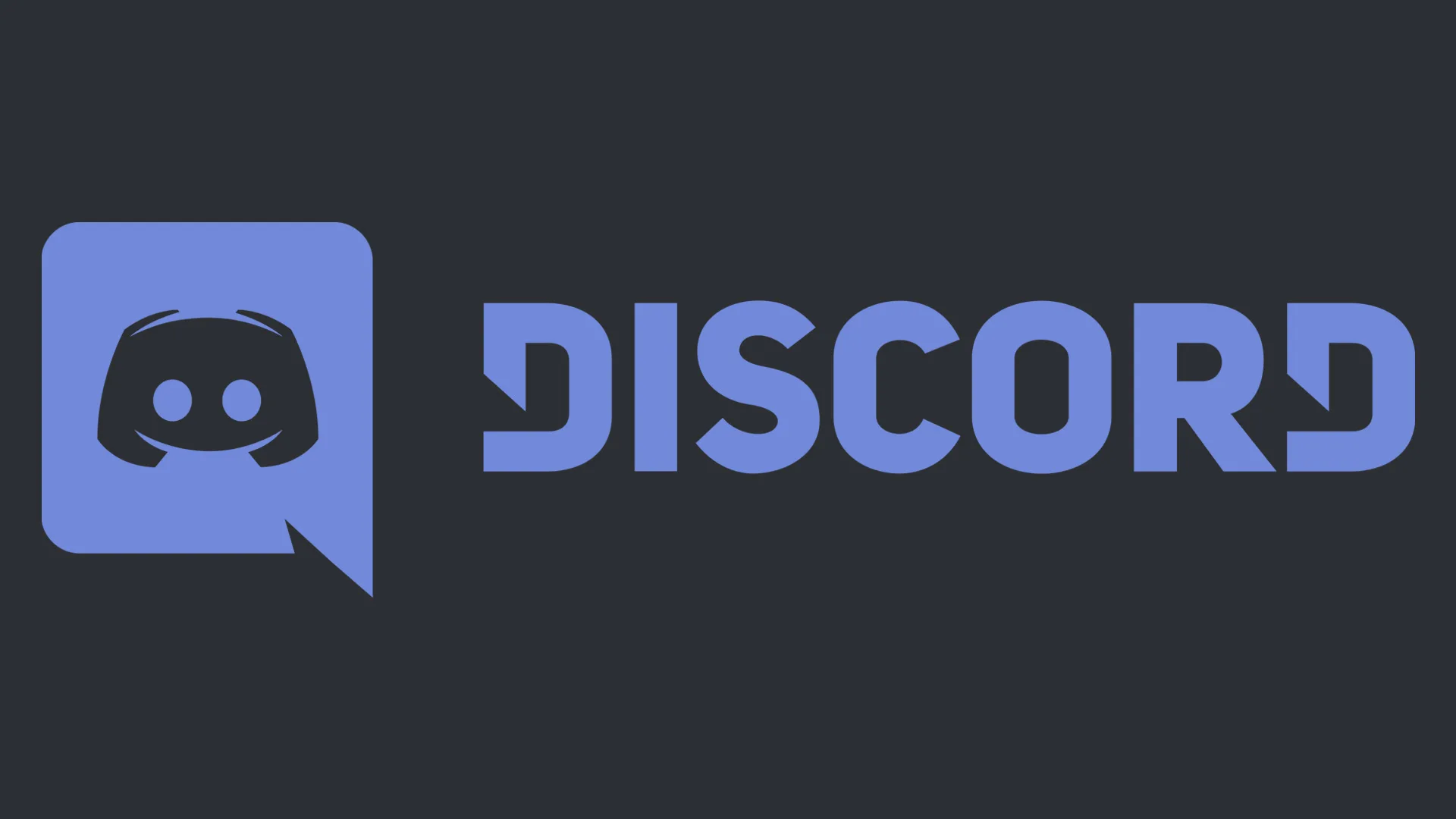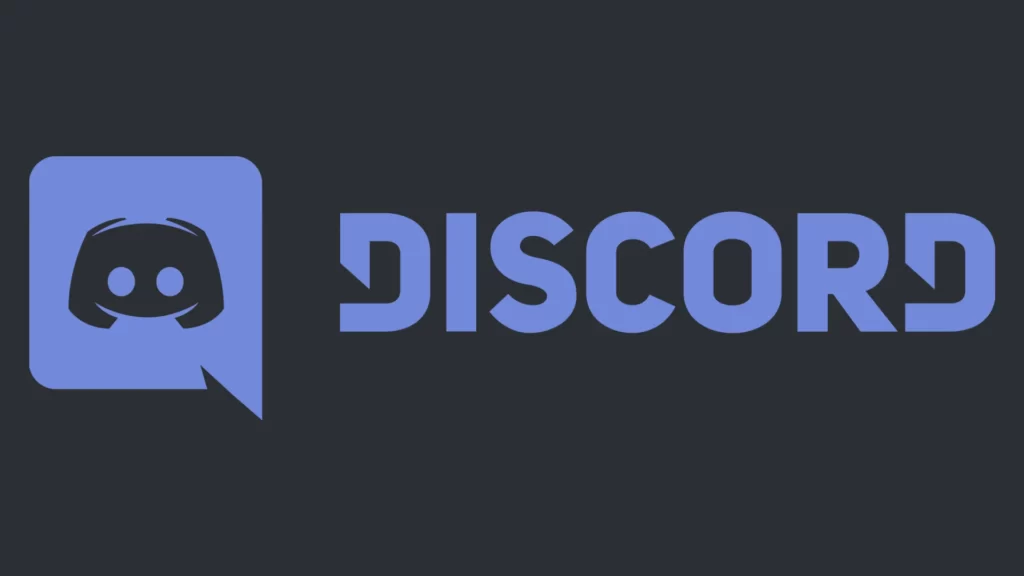 This Discord mod provides all the same goodness of the original Discord app with tweaks that allow users access to certain features, that would otherwise not be available to users. From setting Themes, custom fonts, interface customizations, chat tweaking etc.
While it is feature packed it is quite not as robust Better Discord yet however, constant improvements and updates are only making it better and better.
Some of the features available on Bluecord are:
Themes
Under this section users can change these aspects of their Themes that would otherwise be not possible in the original Discord:
Custom Background Images.
Marquee Names.
High Quality Icons.
Custom Fonts.
Square Pictures.
Remove Nitro Gift Button.
Remove Call Button.
---
Color
Options for color customization are available on Bluecord for the following components:
Rainbow Color
Text Color Mode
Incoming-Name Color
Outgoing-Name Color
Incoming-Text Color
Outgoing-Text Color.
Deleted Message Color
Custom Message Name Colors
---
Chat
These nifty little features bring in good quality improvements in the way you chat and interact with your texts on the app:
Disable Typing
Show Account Age
Always Disable Reply Mentions
Show Username
Media Spoilers
Always Show Embed Links
Exact Timestamps
Reveal Hidden Channels
Reveal Spoiler Messages
Anti-Message Delete
Anti-Message Edit
Anti-Reaction Delete
Hide Blocked Messages
Timestamp Format
These are some of the features that users get above and beyond the normal set of features already available on the original Discord. Some of these features are especially useful and add to the overall usability of the app. Some features simply help you personalize components to you own liking and taste. While there are aspects of this mod that also enable paid features (Nitro features) for free.
While the original version is also perfectly fine and more than usable for everyday users, Bluecord is specifically more targeted towards power users.
This modded version is great for those who wish to make more use and productivity off of their Discords.
For people who daily-drive Discord, Bluecord can be an extremely refreshing experience that solves some of the conventional shortcomings of the vanilla version of Discord.
---
How to get Better Discord for android (mobile) ?
Like we have stated earlier Better Discord is not available for mobile but a great alternative can be found in Bluecord.
+It attempts to provide what Better Discords aims to achieve on PC with lots of user personalization options and custom features that makes the app more versatile and easy to use.
If you wish to have this modded version of Discord on your phone, then you can do it today. But, however please note that this mod is only available exclusively for Android users as iOS does not allow side loading of apps away from its Apps Store.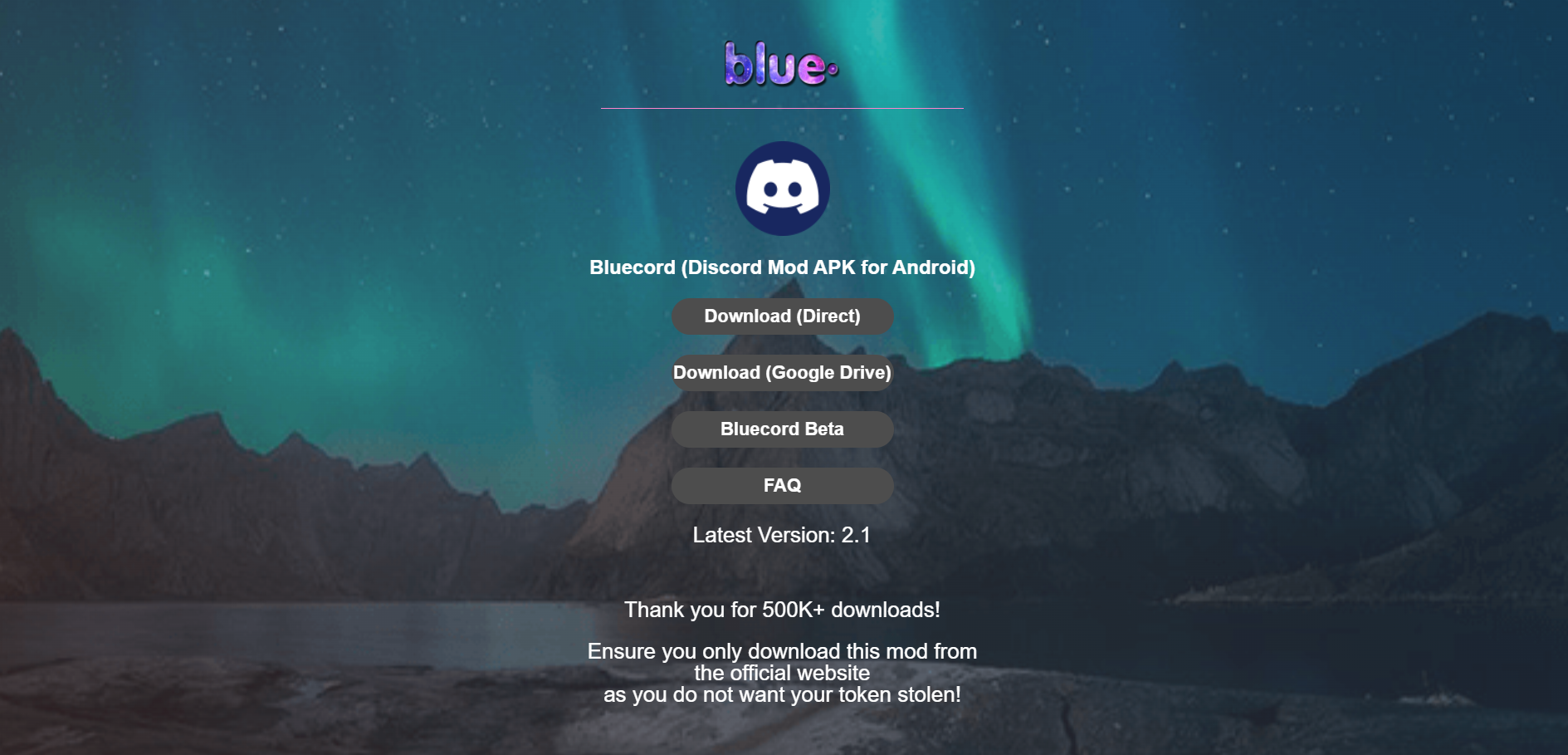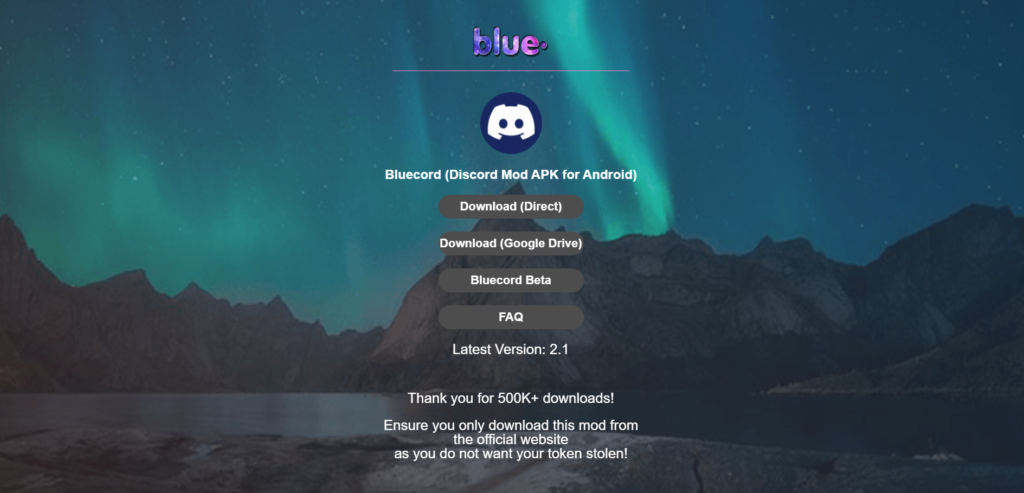 To download the latest version of Bluecord, user can head to this link: https://bluesmods.com/bluecord/
Make sure to use the link given above, to download Bluecord on your Android phone as it is not available on the Playstore. As this version of Discord is a mod, it goes against the Terms and Conditions of  both the Google's Playstore and that of Discord's.
Installation
However, rest assured the Bluecord is completely safe and free to install. It is also free from any harmful software that will effect your mobile. If you wish to download and start using this version of Discord on your phone now, here is what you need to do:
Go to the Official Bluecord site at: https://bluesmods.com/bluecord/ .
Choose Direct Download or Google Drive download based off of your preference.
Make sure to at least have 110MB space free to download the APK file.
After successfully downloading the file, open the .apk file.
If prompted to allow permission, grant permission to install files downloaded from 3rd party apps.
Follow the onscreen instruction and complete installation.
Logging In
After completing installation of Bluecord on your phone here is what you need to do next:
Open your Bluecord app.
After you open the app, Bluecord will auto search for any relevant updates and then press "Download".
Login with your existing Discord account credentials.
After logging in users can now start using Bluecord, just the way they would use the original Discord. It also good to know that users can use both the original Discord and Bluecord side-by-side if they want. Users can now access and use all the best feature from Discord but with a sprinkle of extras that help make the experience all the more better.
---
Will I get banned for using Better Discord?
Much like any other mod for any other app in the Playstore, using a modded version is always against the Terms of Service of the original app. Likewise, using Bluecord is actually in violation of the ToS of Discord.
Technically all users on the Bluecord should be banned from Discord for breaching the laid condition of Discord, but it rarely happens.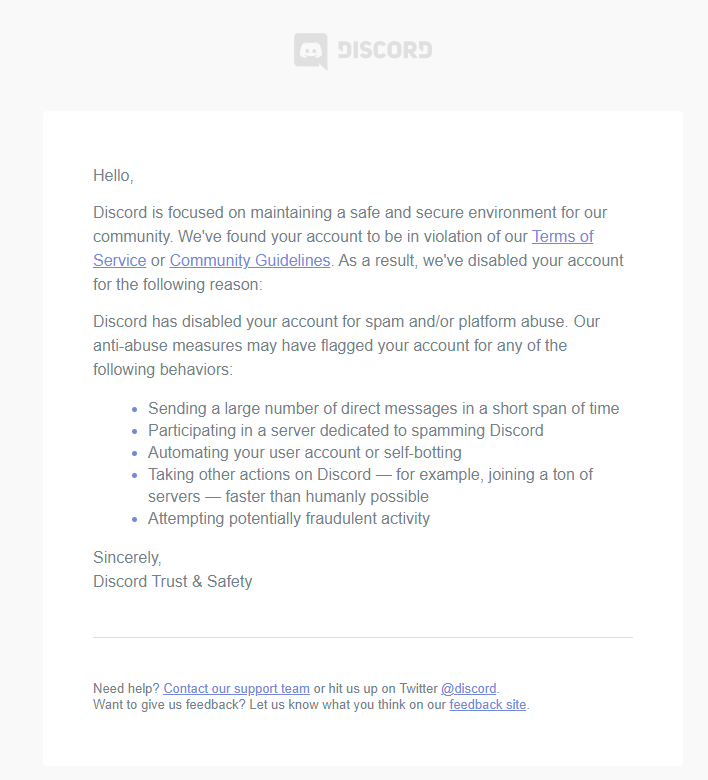 As users Bluecord essentially provides the same platform and simply enhances the usability of the app.
The app in itself take no steps to maliciously lure users for self profit or exploitation.
In the same way the users should also make sure not to misuse the app and its features. As long as users use the app responsibly and that too in a discreet manner, there should be no problems faced.
Discord users should also understand that Bluecord is to be used like any other app, and should not be used for matters that are unfair or detrimental to other users or people.
Being irresponsible on the will only draw the attention of Discord and have them banned .
---
FAQs
Q1. My security app says that the downloaded file contains a virus, what should I do?
Ans: Provided that you download the app straight from the official site of Bluecord, the app should be completely safe. While modding the app, a re-signing of the original app is required which causes a false-positive with the package. This inconsistency is what gets picked up and gets labelled as a virus or a malicious software.
Q2. The installation process keeps saying "App not Installed" why ?
Ans: The .apk file requires about 110MB and an additional 400 MB to install and run, make sure you have enough storage available before you run the installation. Also users can try disabling "Play Protect" temporarily to fix the issue.
Q3. Is Bluecord safe to use?
Ans: Yes, Bluecord is absolutely safe to use. Make sure to download only from the official website and to not use the app for any malicious reasons. Bluecord runs like any other modded app and as long as users do not use it for botting or abusively uses API calls, then all should be safe.
---
Final Words
There is no secret, we all love Discord. It is an exceptional platform that helps us connect better with our peers and family alongside a number of powerful features. The app is also exceptionally well received within the gaming community. The app like any other app has its own sets of drawbacks and for that Bluecord simply fills that gap. It provides users with more flexibility and customizability options that users crave for on Discord. We hope that this guide has helped you in getting you the required information and helps you enhance your Discord experience.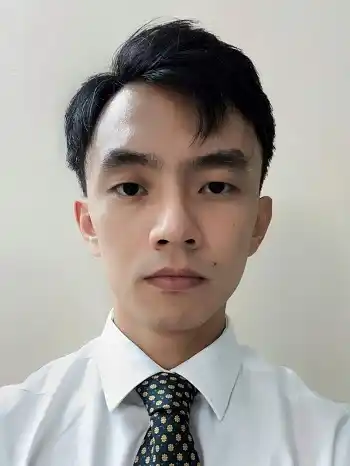 A perennial tech-head with a knack for words, sneakers and fast cars. Likes to be in the know, of anything upcoming and cutting edge. Will probably sit down and talk to anyone over a cup of coffee. The coffee has to be good.