Telegram is one of the most popular communication apps out there. With a lot of customizability, it surpasses multiple apps in usability. Today we're going to look at the best themes for Telegram trending this year.
While some would agree Whatsapp to be better than telegram, with the recent change in Privacy Policy, Telegram has the upper hand. Telegram also lets users customize to their heart's content, unlike WhatsApp or Discord. Moreover, it's completely Open Source! Here we would look at all the latest cool themes for Telegram and how to apply them.
How to apply Telegram Themes
Before we jump onto the best themes for Telegram, we need to learn how to apply them. Thankfully, telegram makes it quite easy to apply those themes. All you need to do is click on the title link and it would take you to your app. Then click on apply if you like the theme and it would be applied to your app with ease. I have also provided a preview of each in case you do not want to open it. You would notice an apply button on the bottom right side of each pic. That is what you press to apply the theme.
You do not need any special modified apps or software for this. There are a lot of websites, even telegram channels which host a tonne of themes according to your tastes. You can visit them, simply try the theme by click on their Get, apply, install or whatever proceed button there is. We will now start listing the best 20 themes for your Telegram app.
20+ Best Themes for Telegram
Since Dark themes are the most trending things recently, we will start with a purely dark theme, which would give you Amoled screen Vibes.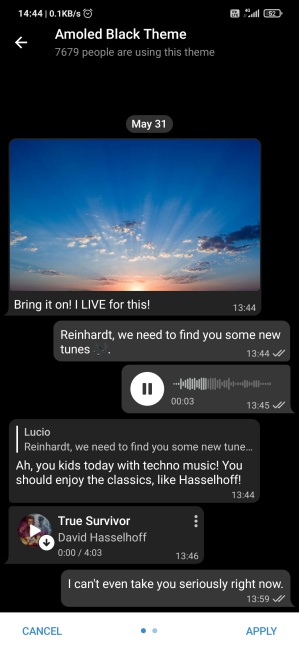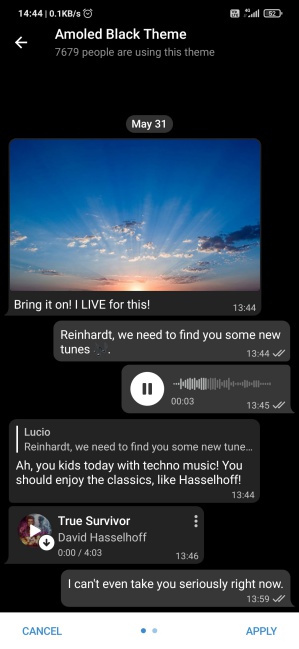 ---
This is another full dark theme, with only wallpaper and the buttons being deep blue. The rest is all completely deep black. If you are into dark themes with different colored buttons, check it out.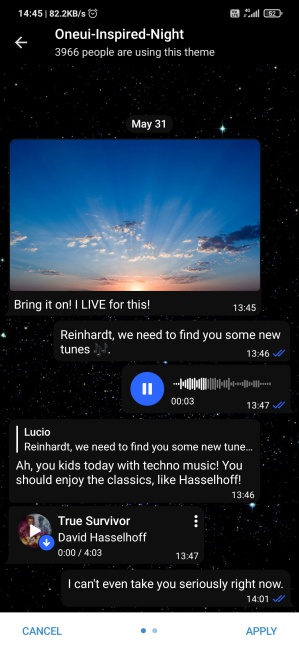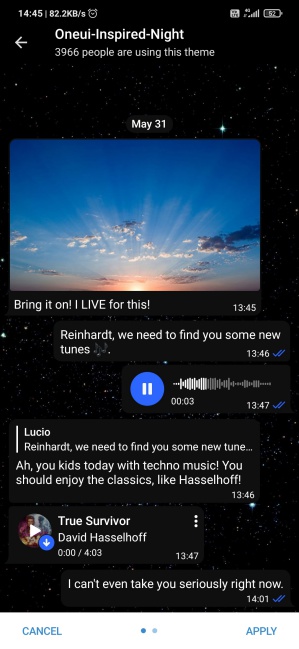 ---
3. Ultra Violet
I agree this isn't a black theme, but it's a really good dark theme. You will find deep violet background along with colorful but deeply colored chats. If you prefer a Dark theme but not black, this is yours to try.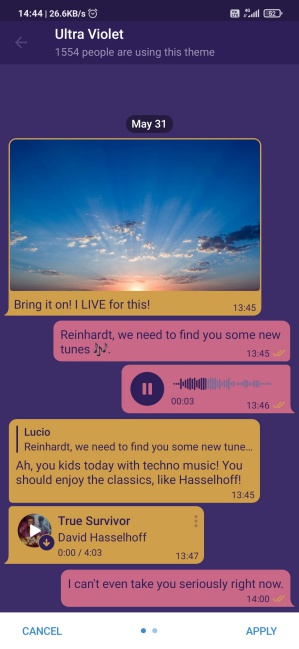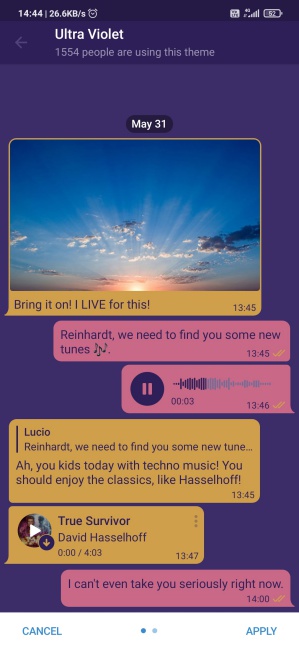 ---
4. Dracula Mint
Mint and Dracula together sound fun right? Going by the preview you probably know it is. With an almost black background, I say the word almost because I like its greyish-blue tint a lot, it has mint colors on its buttons which helps provide a refreshed look to the app.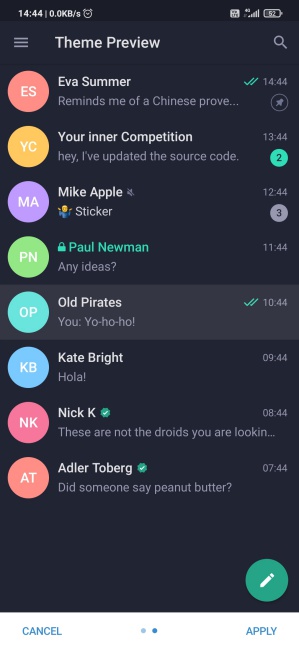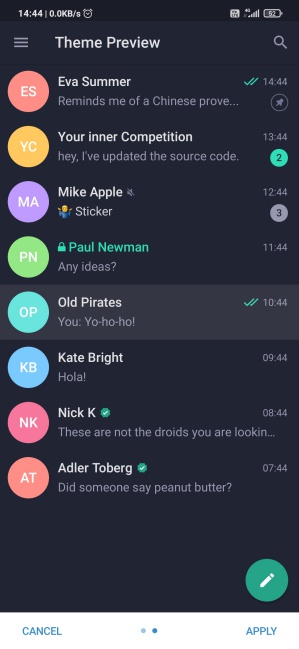 ---
5. Mountain Solitude
This is your classic go-to Dark theme If you prefer to stay away from the brightly lit themes but cannot bring yourself to go super black. Therefore, it is a good balance between both types of theme, inclining more towards the darker side.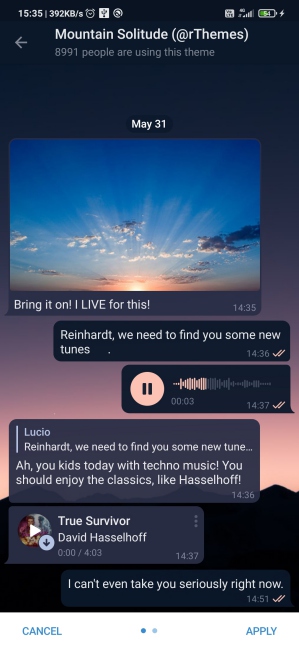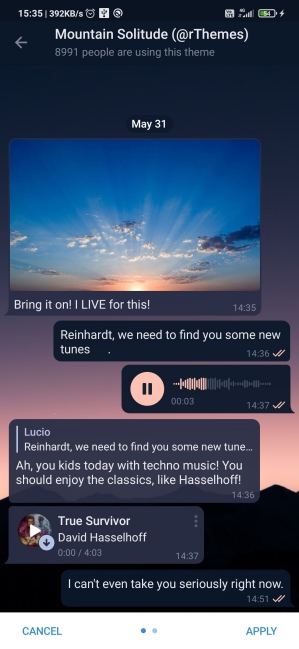 ---
6. Adora Dark
This theme comes packed with darker hues of all the colors you are adapted to seeing in bright shades. It also makes the chat somewhat transparent and if you love the natural wallpaper in the background, this would be your best choice.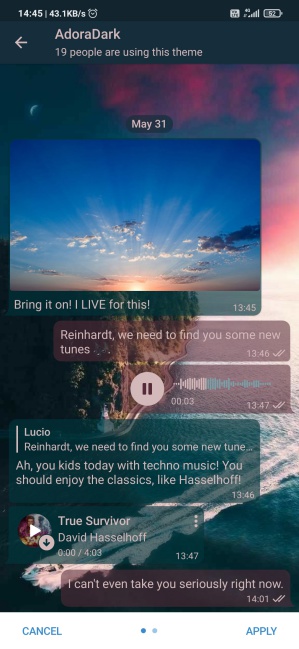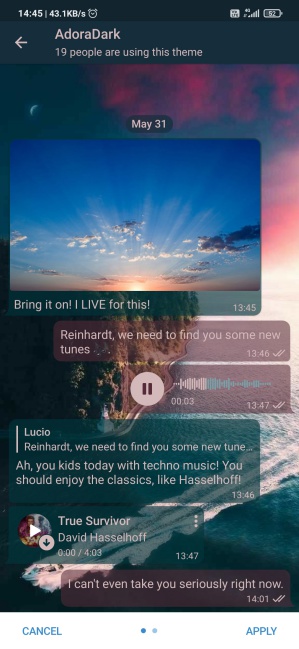 ---
We will be closing the list of Dark themes with this one. It comes with a very unique design that provides grey buttons and chat heads rather than deep black ones. This is useful for people who do not vibrant nor completely deep backgrounds on their app.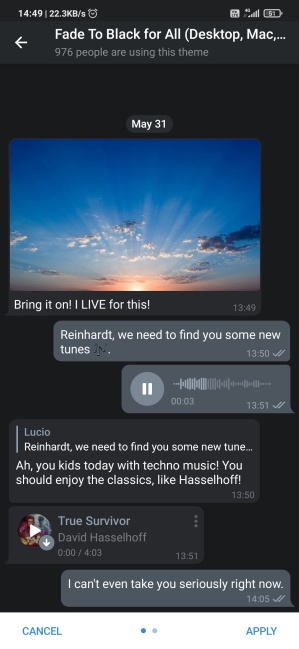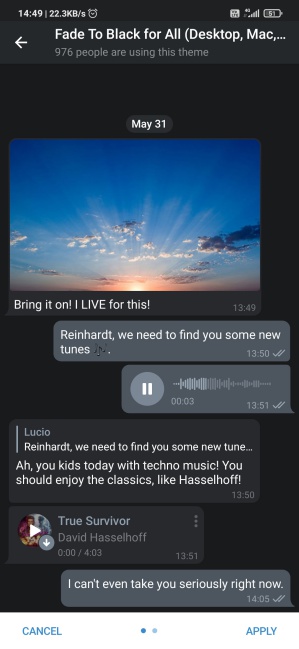 ---
8. Snow Day
The Snow Day theme comes first on our light themes list. With a pleasant background of a snowy city and a white-blue mix of buttons and chat heads, there's nothing here that would disappoint you.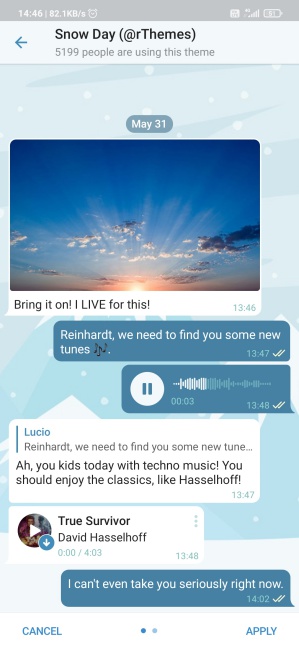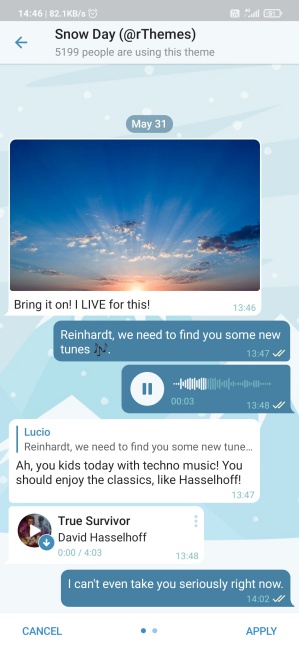 ---
9. The Wave
Who doesn't likes to live in a funky neon world from time to time? This theme brings you the same feeling you would get if you stepped into a 70s Disco. However, some part of this theme is quite black, qualifying it successfully as a dark theme too.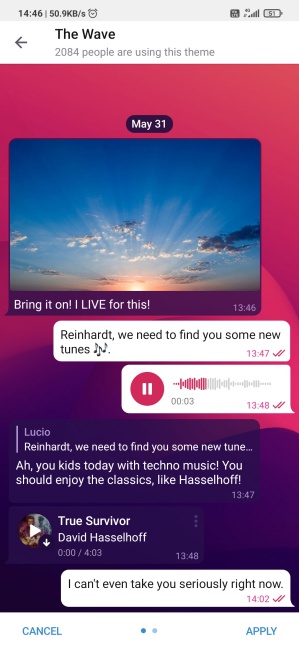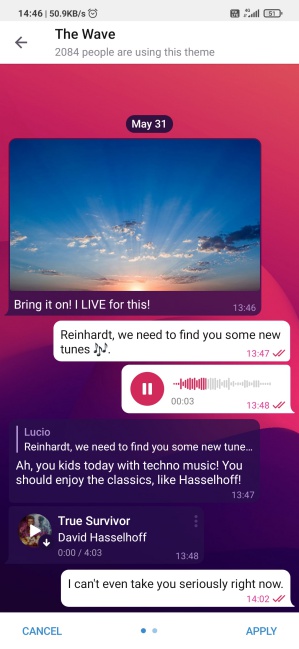 ---
10. Pinky 2
We can't have a light theme list without a pink theme. This theme goes all out on the pink shades, making your Telegram feel like the Cherry Blossom trees. Don't believe me? Try it out yourself!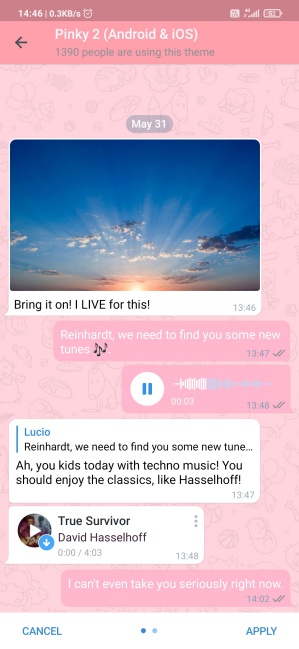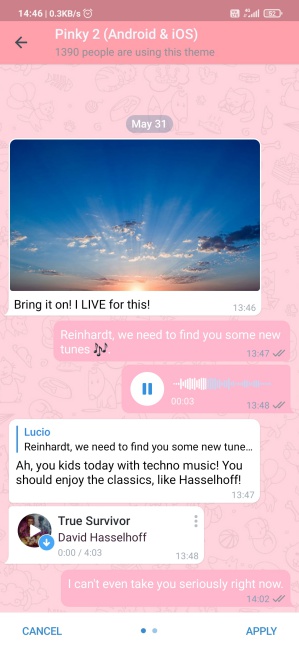 ---
11. Sepia Blues
I honestly love these off-white tints so much! Not only are they relaxing and soothing for eyes to look at compared to the default bright white, but it also has the added benefit of feeling like you've applied a filter over the app which takes you to the old times. Furthermore, the deep blue just adds to this as well.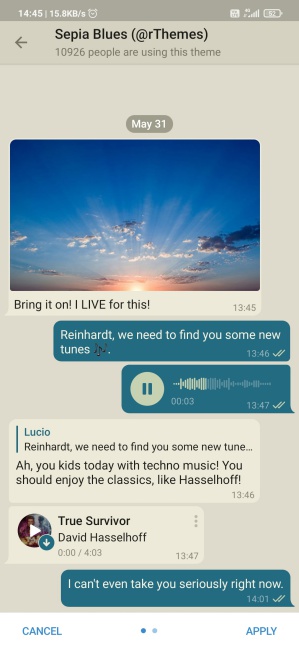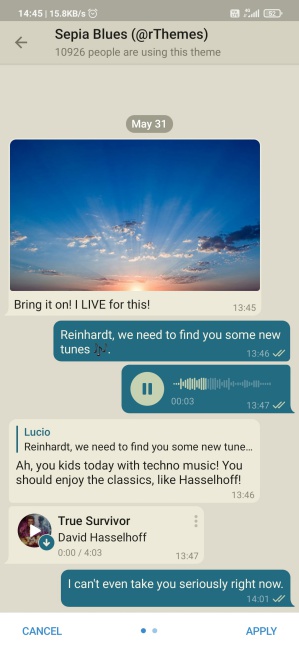 ---
Thankfully, there's a red theme for the huge number of red theme enthusiasts and people with red as their favorite color out there. Rather than just washing everything deep red like other themes, this one does a good job of balancing it out with other soothing color tones.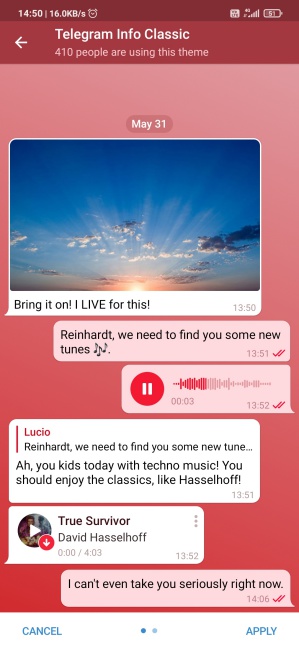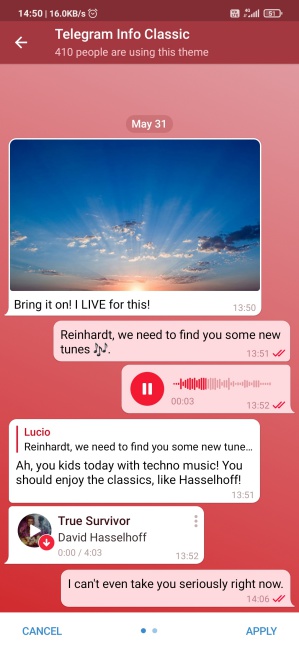 ---
13. Rum Parfait
We have talked of the red theme therefore, it means we have to talk about the blue ones too. Rum Parfait is a beautiful blue light theme. You would not be disappointed by its light blue colors and the beautiful fitting sky background.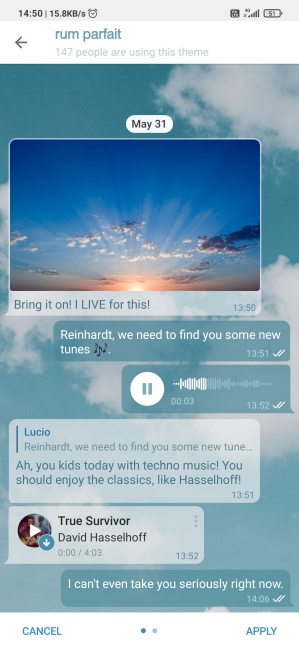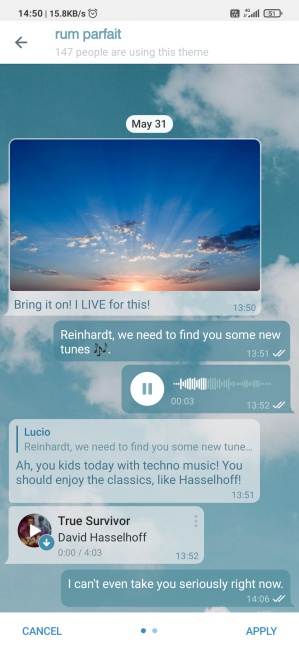 ---
14. Orange
This theme is as simple and direct as the name suggests it to be. It is a fully orange tone theme, with a background that also has loads of oranges. Hey, its name is orange, there is nothing wrong with having lots of orange as background. Plus, trust me, it looks as good as it tastes!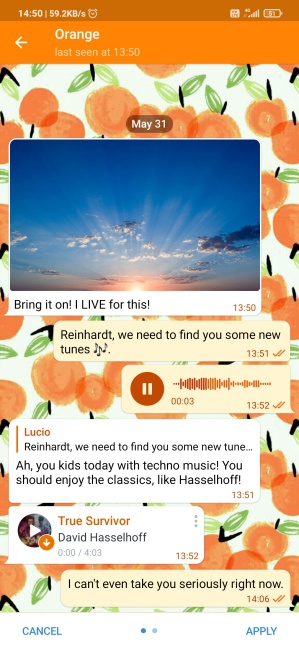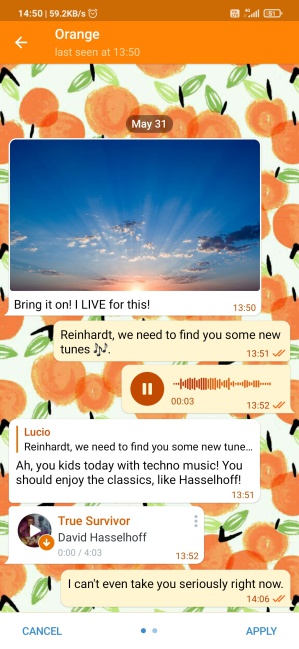 ---
15. Elegant Green
Did the Mint Dracula theme didn't work for you? Here we are with a theme that has spacey-digital vibes. Similarly paired with its futuristic-looking background and all-black theme which makes the green stick out beautifully, it is one of the best themes to go for if you like futuristic themes.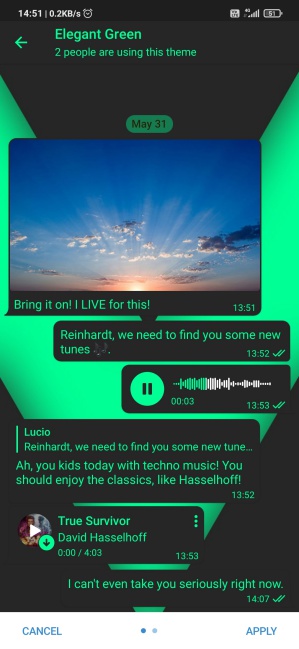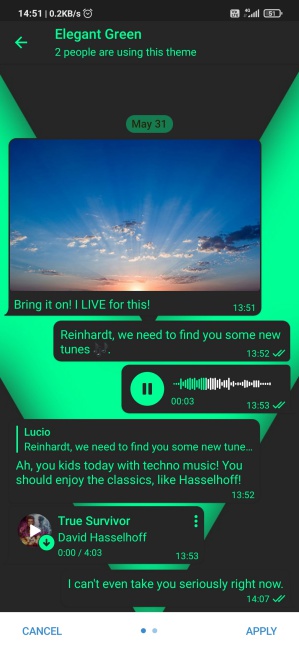 ---
16. The Tree
We talked of almost all the colors, why leave brown out of it? This theme completely engulfs your Telegram app with beautiful brown shades. In addition, it just feels out of the box and unique to have a brown theme on an app that affords to support it.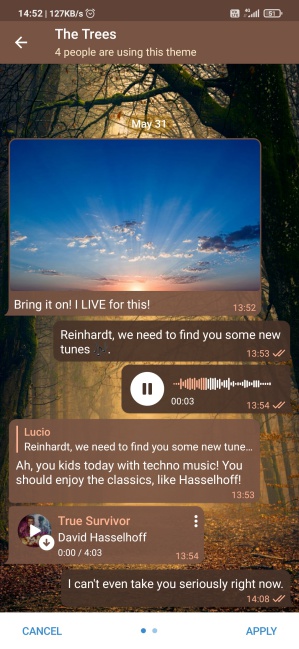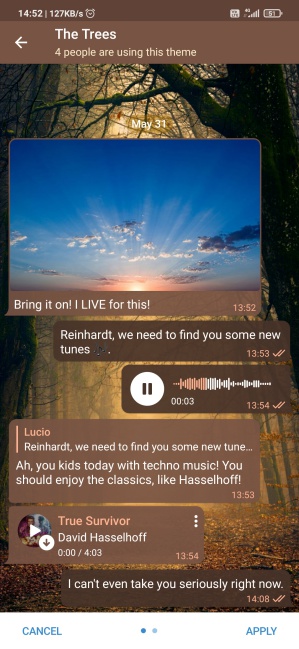 ---
17. Redleaf
Ever wished for the Elegant green theme but in a red shade instead? We have got you covered. Redleaf looks great and since we have turned towards talking of themes resembling nature, the beautiful Redleaf background would feel awesome.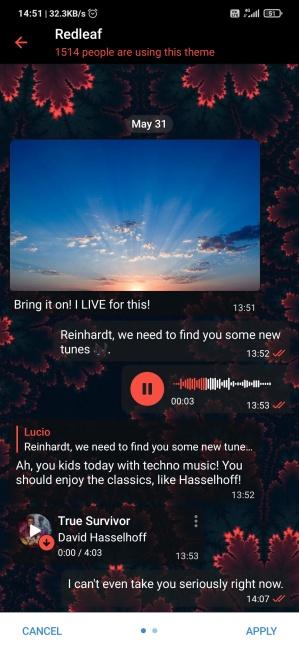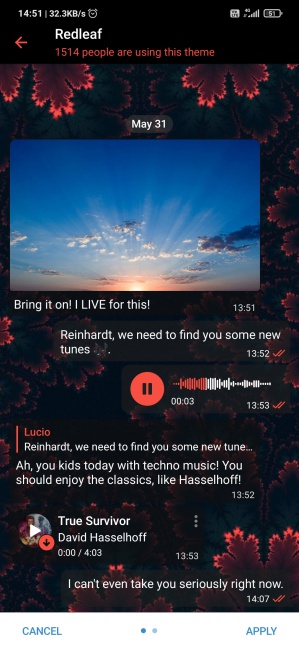 ---
18. Great Leaves
Now that we are talking about leaves full-fledged, let's face it. Firstly, who does not likes to watch the trees shedding their reddish-yellow leaves beautifully in the season of spring? It just feels so calming. This theme aims to provide the same soothing feeling to you through its reddish-yellow buttons and an apt background.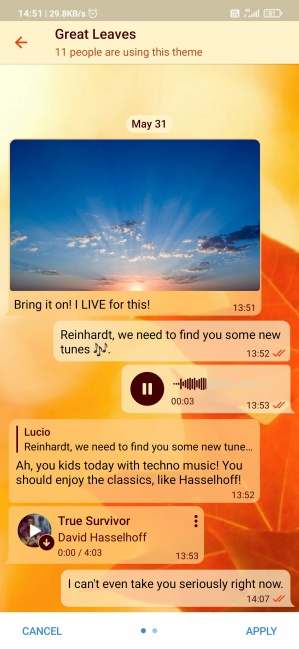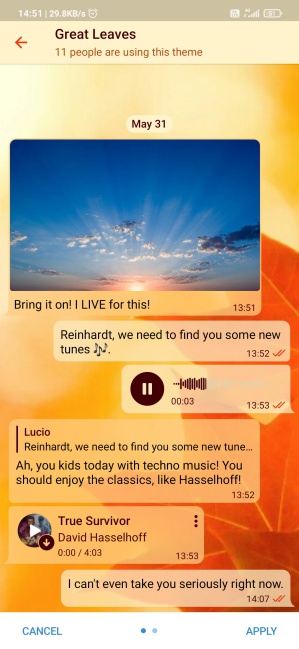 ---
19. Universe
A theme list does not end with at least one Space theme and here we are with one. Moreover, this has the added benefit of providing a suitable dark theme for you if you need one.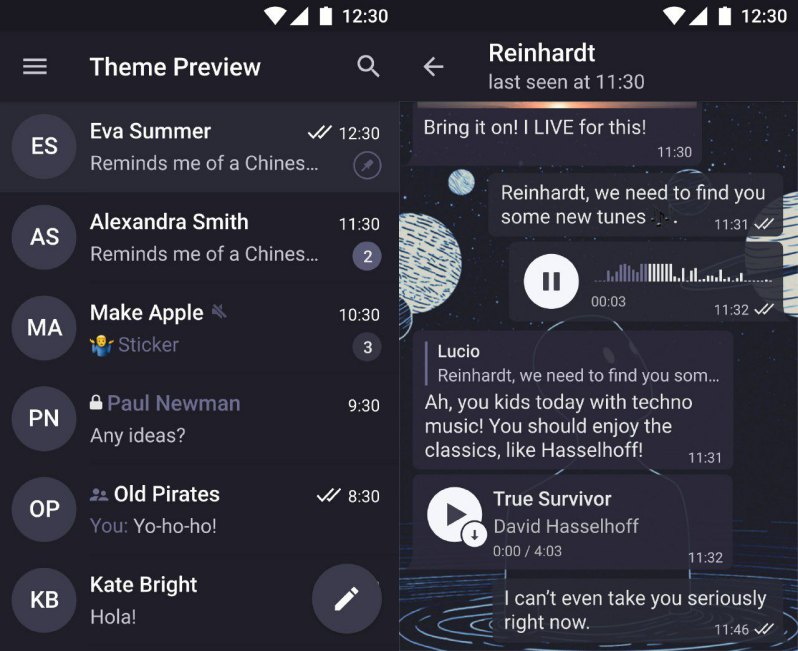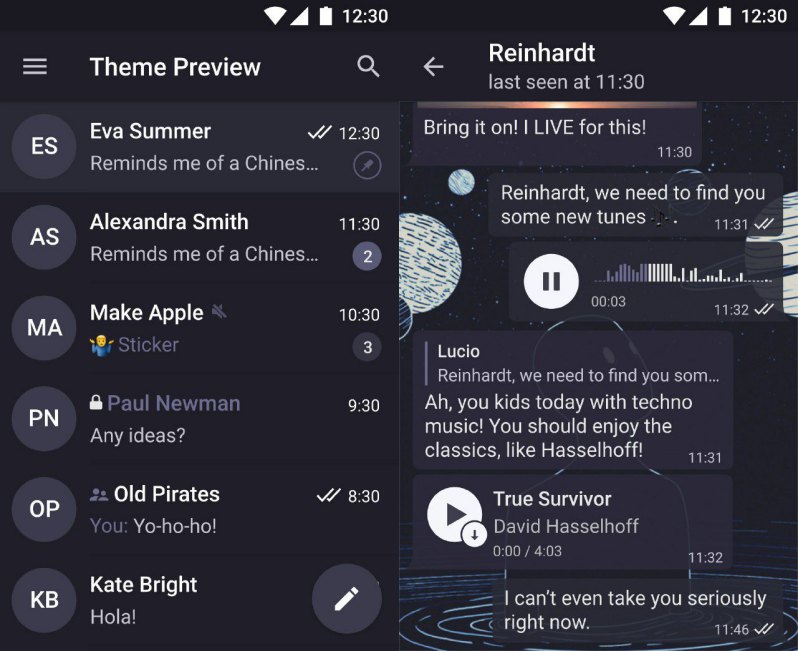 ---
20. Santa
Certainly, you were looking for a festival-oriented theme and we have got one for you. It was quite a bit of hard work deciding which one looked the best but finally, we decided on a winner. Besides, it looks pretty as a light theme too!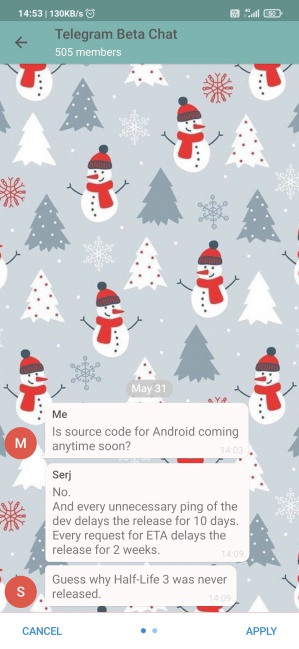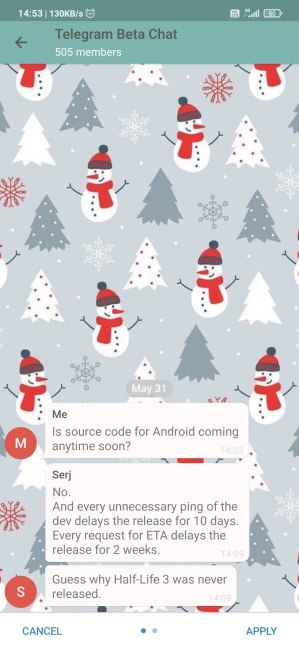 ---
21. WhatsApp Theme
Frankly, we do not know what you are thinking, but if you just moved from WhatsApp and need a theme that reminds you of it, this is very helpful. The only sad thing is that it's only for the Android Telegram app.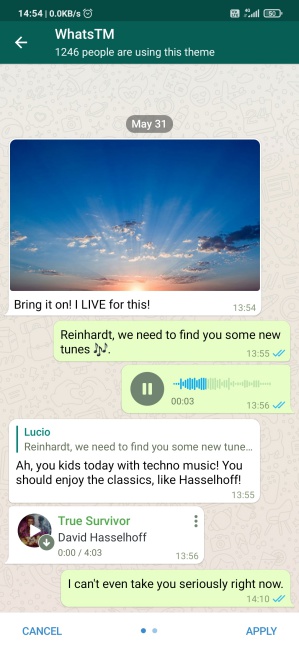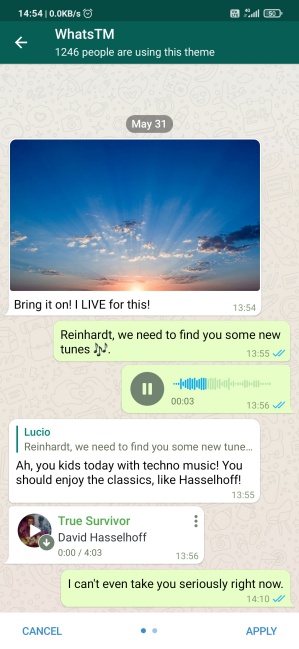 ---
22. iMessage
In addition to mimicking WhatsApp, you can also manage to strike a pretty similar resemblance to the iMessage app. Above all, the blue and white theme looks beautiful as well.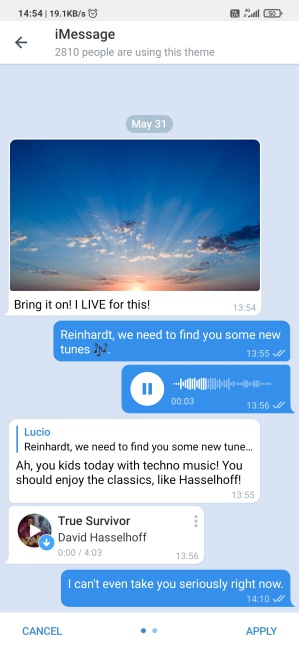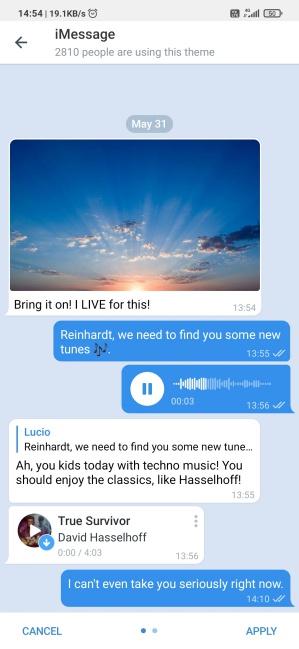 ---
Conclusion:
Here we provided you with some of the most popular themes for your Telegram application. Hopefully, you enjoyed trying them out and select your favorite.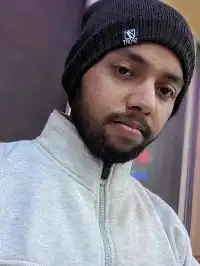 For someone who is a Medical School student, you certainly did not expect me to be here. But here I am, due to my fondness for technology, games and science. There is just something really sweet about technology that has helped in binding us together, so it is not surprising that I love to talk about it. And with the same technology, you could connect with me easily, so feel free to!