Nowadays, most of the tech companies or in general any companies try to max out their numbers of specs and other features as high as possible. If we consider the case of smartphone cameras, a couple of years ago we saw that 12 to 16 MP was more than enough but fast-forwarded to today, 108 MP has become a reality.
Here, when to some calculations, 108 MP is around 6 to 9 times higher as compared to the 12 or 16 MP ones. But, does it mean such a huge bump in the image quality altogether. Well, not exactly. Because these numbers are due to the fact of pixel binning and other tech included.
Similarly, this aspect goes with music quality. In recent times, over any music streaming platform apps or games, we find high res audio of 16 bit, 32 bit, and more. But, 8-bit audio still holds its place in many of the games and apps even today. In fact, many users or music lovers try to scale down the high res audio to 8-bit using music maker apps. On that note, let us have a look at the top 10 best 8-bit music maker apps.
Also, before heading over to the actual list of apps here is a thing to mention. With the help of these music maker apps, you can tune your own beats with all the mids, highs, and lows priority set as per your requirement. Those who have a good knowledge of the above musical terms will find this list to be really helpful. With that said, let us begin.
---
Best 8-Bit Music Maker Apps:
1. Tonepad: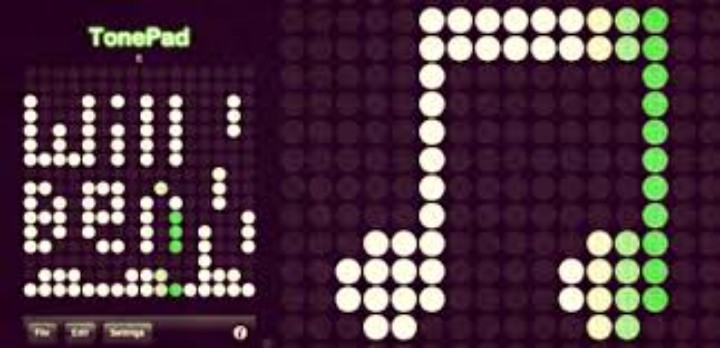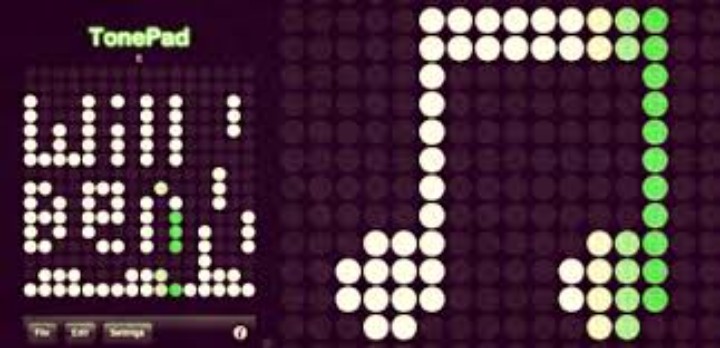 With the subject to creating your own music, Tonepad lets you do this with a simple to use and understand interface. On the upfront, you get a 16 x 16 grid where you can either light it up or let it remain off. With the different combinations of these grid elements, you can create your own music.
In my view, creating music tones and beats with the help of Tonepad is as easy as switching on and off any LED light. Not to mention, to get the right track and levels you need to go through some trials. Apart from that, this is the best app, to begin with.
The set of caveats are that Tonepad is available only for iOS users. Once you are done with the tuning of your sound you cannot save the song with the free version. In order to do that, you can make a purchase of around $0.99 which in my opinion is acceptable.
---
2. Piconica: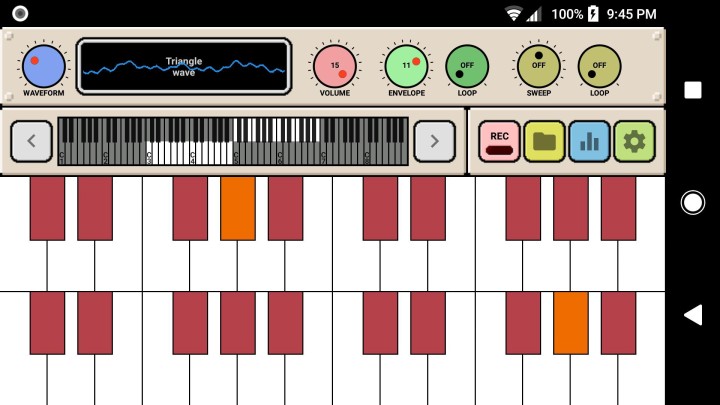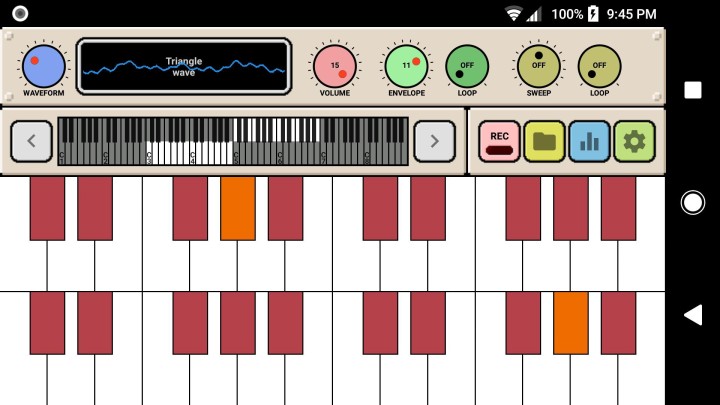 Moving from the iOS side of things, in Android, Piconica is the best app to have a try. In Piconica, you get a set of 96 keys with different tones, sounds, and beats. With the help of this app, you choose from a wide library of pulses and waveforms.
One can find square, triangular, and pulse waveforms with 25%, 50%, and other cycles. So, the customizations available are pretty large enough. After all the applications, once you find the perfect version for your tone, you can export the song in .wav format into your phone's storage. Finally, Piconica is completely free and available on Google Play Store.
---
3. 8-Bit Music Maker: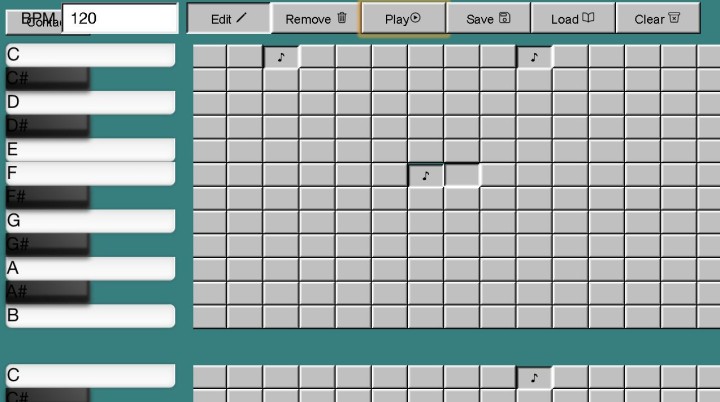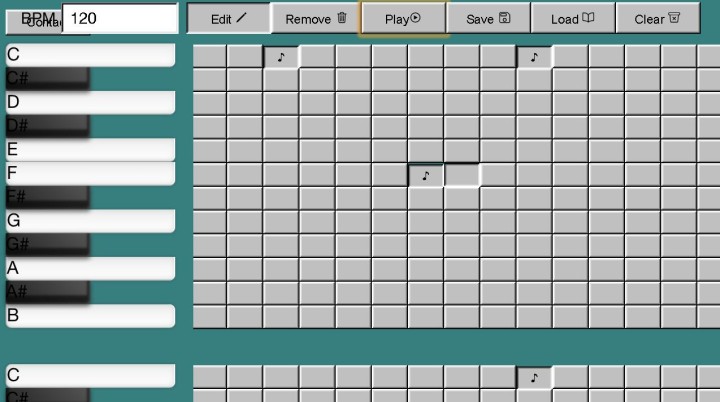 Yes, that's the name of our next app on the list. Indeed, all the aspects of this app are in the same way. It provides a pretty basic and neat UI with all the features and a touch of retro. On the technical features front, you get a neat tab with a set of octaves and facts.
Moreover, the 8-Bit Music Maker app supports the note sizes of full to 16th. Lastly, it is a pretty basic one but surely deserves a mention due to its retro touch. I personally, liked it and you should definitely try this one out. Just on a side note, there is no limit to the number of projects and saving the tune. It's all available for free.
---
4. Nanoloop: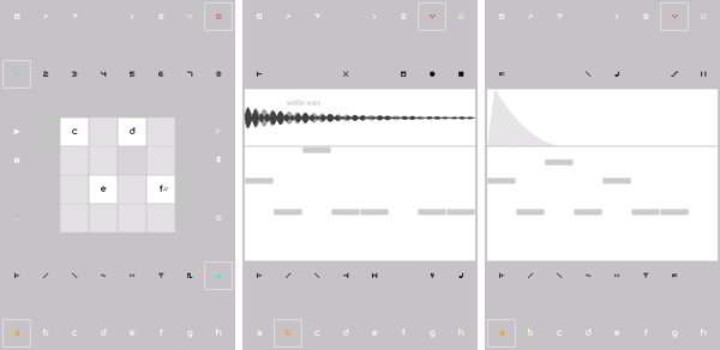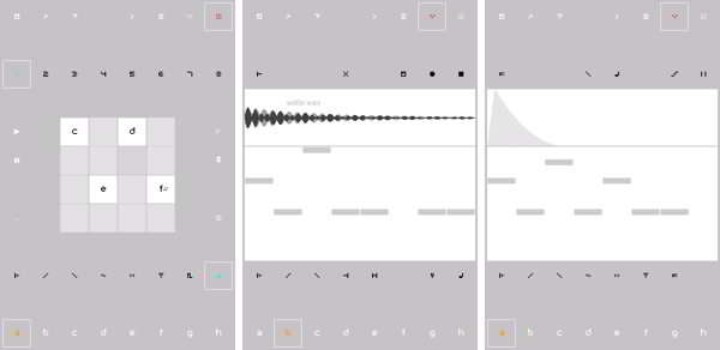 From a basic one to the step above or let's say, to the level of intermediate or even pro. Nanoloop is highly customizable and filled with tons of features. With just a single app, you can sample, sequence, and even compose your own music and sounds right away.
Nanoloop has a huge library of waveforms, pulse cycles, duty percents, and more. One of the major highlights is that it comes with its own set of samples from which you can load and learn for yourself. If not, you can load your playlist song from the phone storage and start exploring. But, all of this comes at a cost. Nanoloop is available on both Apple App Store and Google Play Store at around $3.99. I suggest getting this one if you are into the music aspect from a good time.
---
5. Beepbox: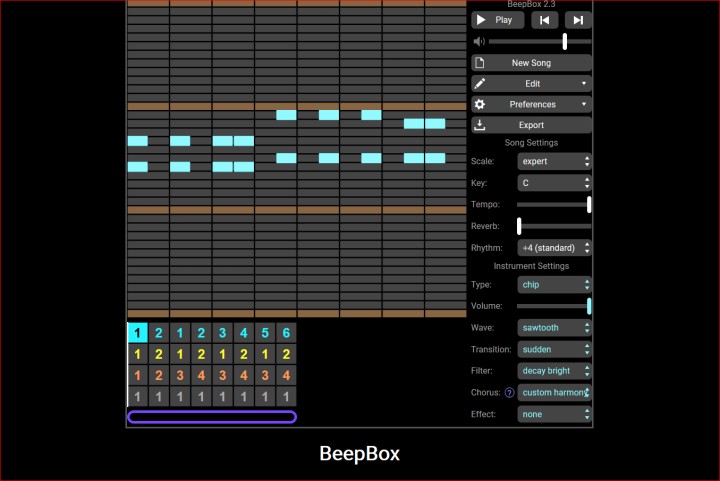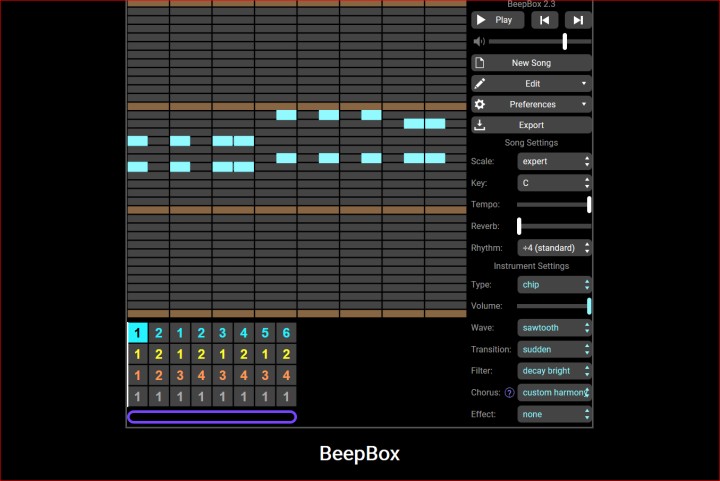 Unlike all the apps till now, Beepbox is not an app. In contrast, it a web-based app that you can surf anytime and start composing your music. Not just that, Beepbox is completely free in all aspects, and no restrictions imposed on any saving files, loading music from external storage, and others.
Noting the features, Beepbox has support to most of the instruments, multiple tracks play and pause, copy and paste of the repetitive bits along the track, and more. All in all, if you are impressed with this one then you can support the developer by paying some amount as a token of gratitude.
---
6. Pixitracker: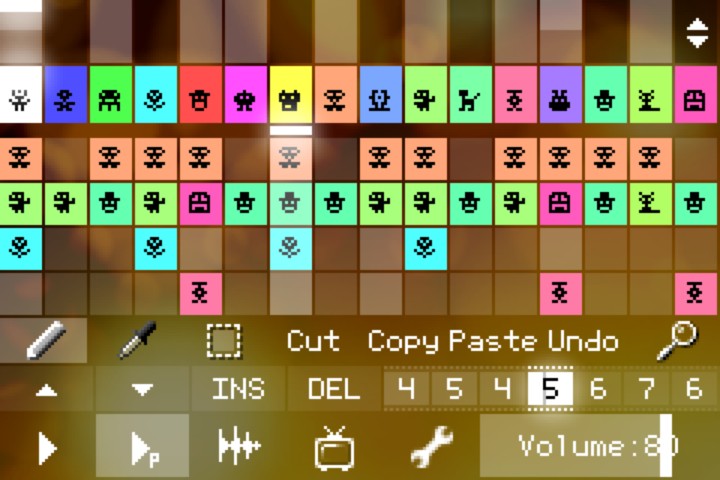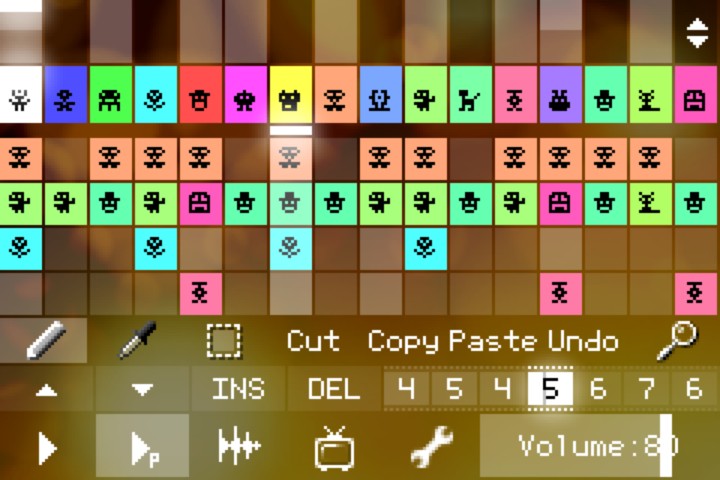 Pixitracker is another great app available on Google Play Store that lets you create, customize and compose the right soundtrack that fulfils your requirements and wish. It, has something that they call, Midi Keyboard. With the help of Midi Keyboard, you can create the tunes with minimum knowledge about all those music terms.
To sum up, Pixitracker brings handy UI, a huge library of tracks and nodes, a wide range of audio file formats support, etc. Not to mention, Pixitracker is paid app but once you spend your buck you definitely will not regret getting this one.
---
7. Medly: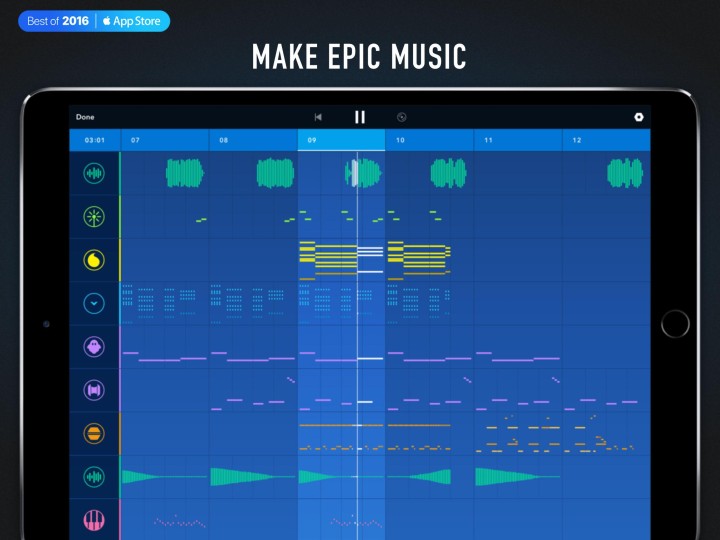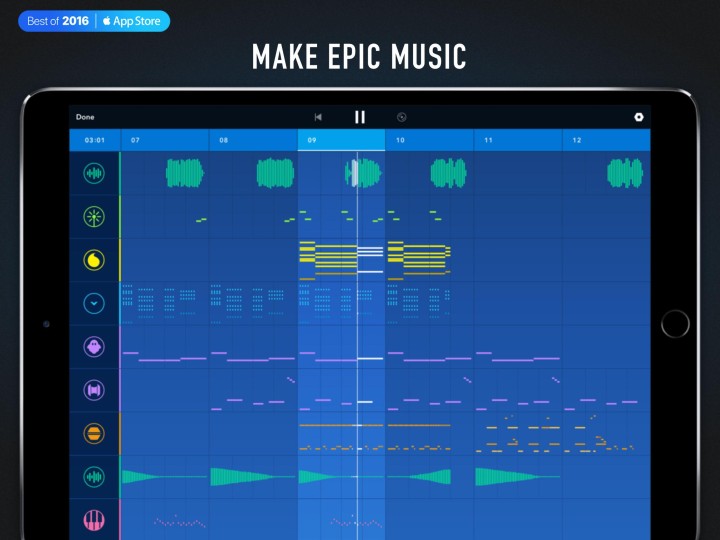 If you were almost there to install the above one but took a step back due to the fact it is paid then this next app will give you the most features for free. Medly is an amazing option in free music maker apps. As with the numbers, there are more than 24 instruments and 1800 loops of samples to choose from.
Also, the part of edits is just appreciable. You can cut, copy-paste, replace, delete, and perform any action on the various timestamp node of the track. But what I personally like about this app that it visualizes all the aspects in a neat manner.
---
8. Music Maker JAM: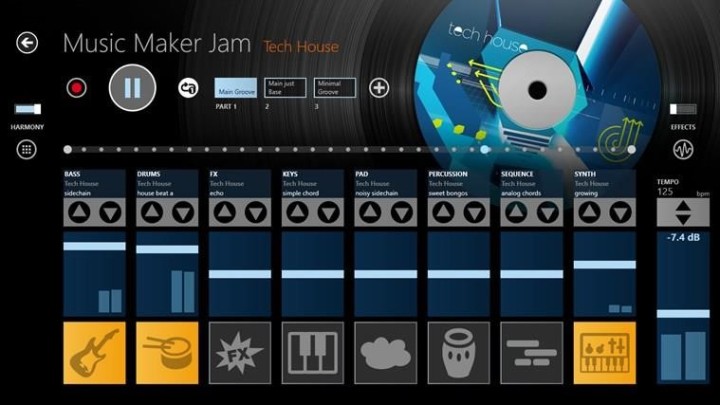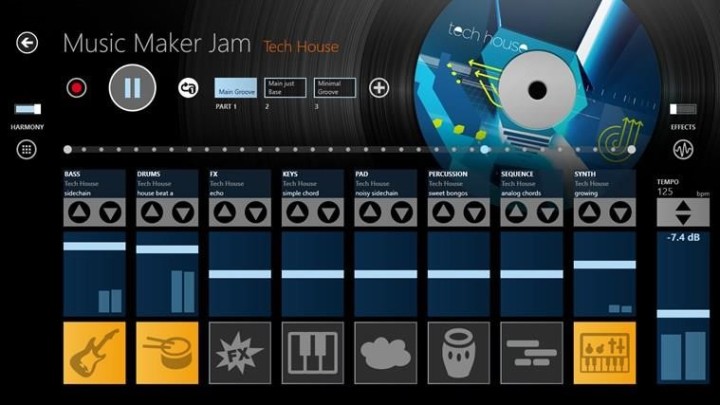 Along with all the common points and features of the above apps, Music Maker JAM brings the support and ability to create music for different genres. If you are into the specific needs of a certain type of music then this app will make your work easy.
In Music Maker JAM you can create and record music for hip hop, jazz, classical, pop, party, cinema, and more. And once you are done with your artwork you can share it along with all the major social media platforms like YouTube, Facebook, Twitter, etc.
---
9. Caustic 3: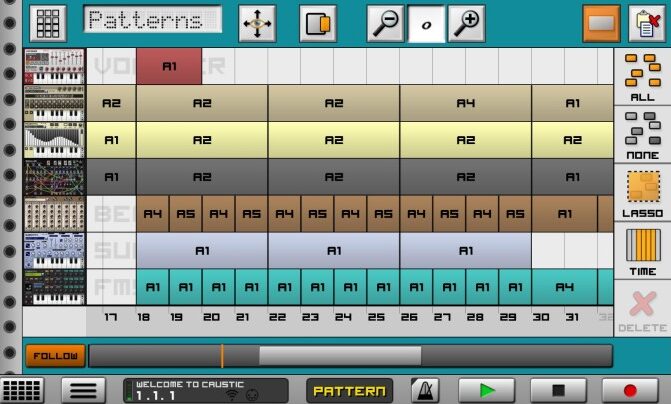 For a perfect music setup and system, Caustic 3 is one of the best options available. Caustic 3 has a good collection of sample notes, instruments, and other features. As mentioned, for a complete pro editor this app will come in handy.
In Caustic 3 you can create and compose your music even better with the help of an equalizer, music edit desk, and effect rack. And the part of graphics and visuals will really help in better understanding thereby helping you to deliver improved output music. Also, it is completely free.
---
10. SFXR: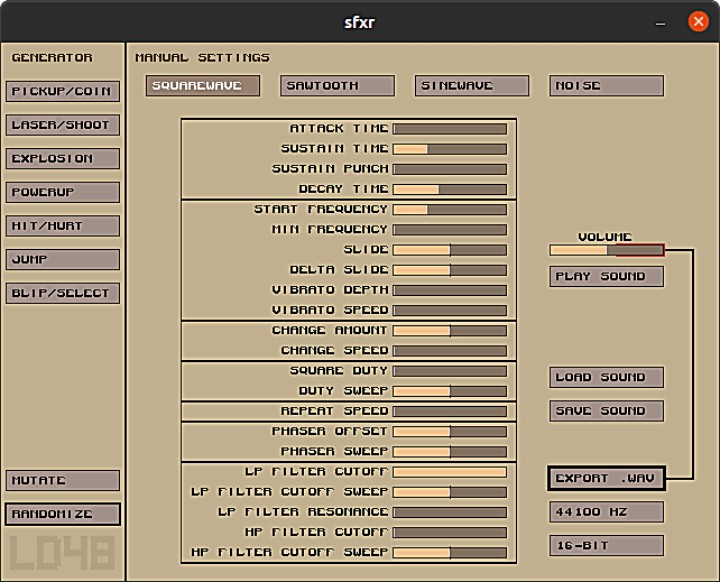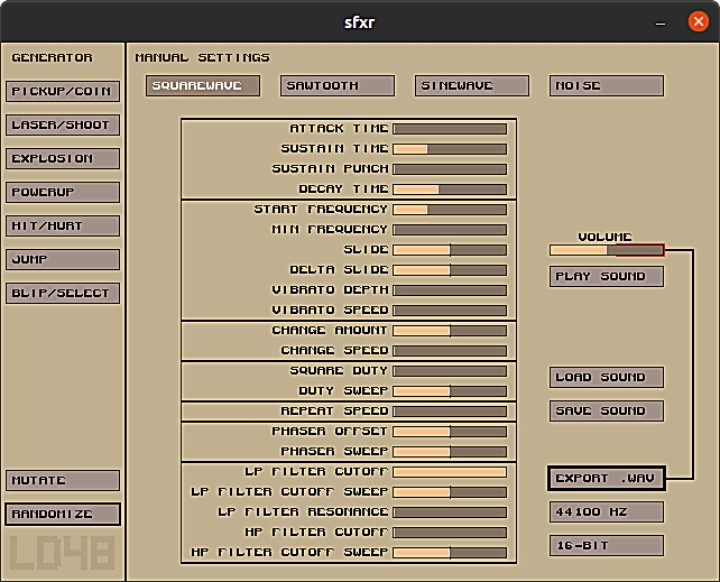 To end this list, let us have an option for casual users who are looking for a reliable option. Not everyone wants to go sky high in levels of creation. Some may find it easy to start with a basic and reliable option. Well, SFXR does exactly that.
On the set of features, this does not carry anything new but the reason for mentioning this one on the list is that this music maker app is reliable. Also, it has been here for quite some years now. So, in this way, you cannot go wrong with this one.
---
Conclusion:
In the end, this list was pretty vast and diverse. So, I hope that you were perfectly able to find your desired app that lets you design your music in your own way. Also, depending on the OS and device specifications you can easily choose one for yourself.
I would recommend Piconica and Beepbox for beginners whereas Caustic 3 and Nanoloop to bring the best out of your creation. With that said, let us know what do you think of the 8-bit music, and is it still popular in your sense? Until then, pick your app and go on to unleash your creativity to create your music that shines!
Karthik, a tech enthusiast and avid gamer, is a seasoned expert at AndroidNature.com. With a passion for cricket, bowling, and Counter Strike (PC Game), Karthik seamlessly combines his hobbies with his extensive knowledge to assist users in conquering social media apps, software, and devices.