Telegram is by far the closest competitor to the infamous WhatsApp Messenger. Well, it is not even close. If we look at the numbers, WhatsApp has more than 2 billion active users. On the other hand, Telegram has just 400 million active users. It is like a 1:5 ratio. Anyways, it is what it is. Also, we have seen Signal making the headlines after the new WhatsApp Privacy Policy. That did not last much. Coming back to Telegram, it is close to WhatsApp.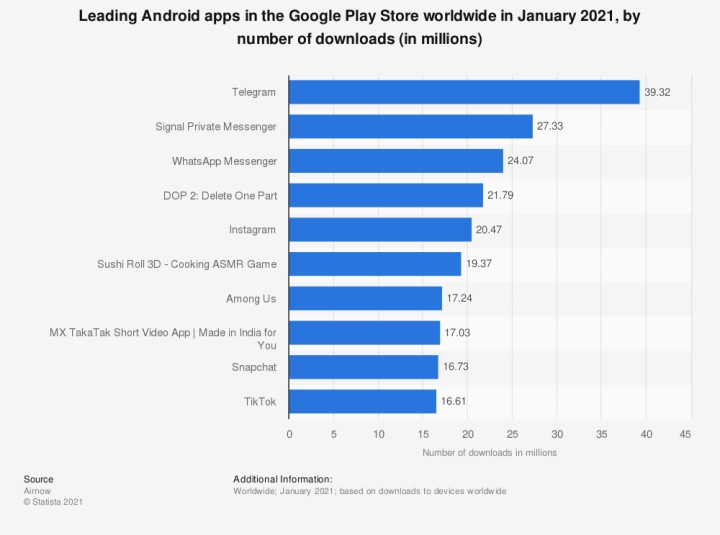 As a reference, we can see the list of the top Android apps in 2021. In these statistics, Telegram turns out to be the number one position with around 40 million downloads. So, it means that users globally are finding a way to use this app. To keep the numbers high, even the developers of Telegram are working on new features. In some cases, Telegram has a better list of features than WhatsApp. For instance, it has up to 2 GB of cloud storage, groups and channels with thousands of users, themes options, expiring invite links, auto-delete messages, and much more.
One such feature in this messenger app is the ability to add multiple accounts. This feature was here for quite some time now. To be precise, it introduced in Telegram version 4.7. Now that more users are using or even switching over to this app, it may seem new. Overall, with the latest update, it has become even better. So, here is how to use two or more Telegram accounts on One Phone.
---
How to use Two or More Telegram Accounts on one phone (Android and iOS):
First, you have to download and install the Telegram app from the Google Play Store or App Store. Alternatively, you can also download the app from any external apk sources such as APK pure. After that, open the app and enter your mobile number. Verify it with the OTP and enter your other details. It asks for Username, First and Last Name, device permissions, etc. Finally, you have created a Telegram account on your device.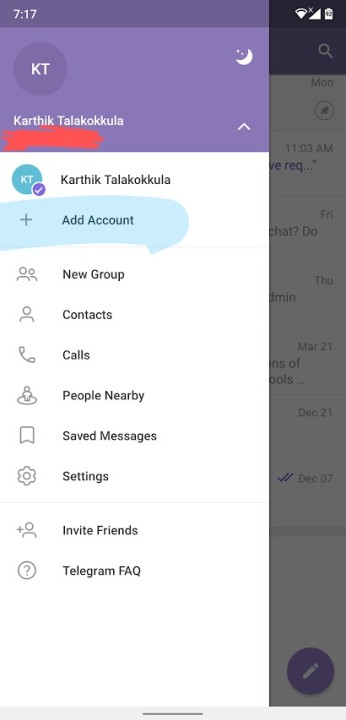 You can even see the details of it in the three-bar menu on the top left corner. In case you are using an iPhone, then there is a dedicated tab to the left side. To add another account, go to the account section, as mentioned above, and tap on Add account. Moving on, enter your alternative mobile number, verify it with the OTP, fill in the details, and that's it. Thus, you have added the alternative account of Telegram. In the same way, you can add multiple accounts conditioned to different mobile number.
---
Conclusion: 
Therefore, this small thing can help you manage multiple accounts on Telegram with a single device. It is as easy as switching the Google account on Gmail. As another option, you can even use third-party apps that allow creating clones. Some of the options are Parallel Space, Shelter, Island, DO Multiple Accounts, Clone Apps, and more. If you found this article helpful, share it with your friends and family on Telegram or other platforms.