Ever since the market of streaming platforms is booming in India, smartphone consumers have started to bother about one more system specification. Some of the popular streaming apps include Netflix, Amazon Prime Video, Disney Plus Hotstar, Sun NXT, and more. And that one system spec is about Widevine L1 certification. If you have been following the tech world for some time, you may realize that people talk about it.
Widevine L1 certification is not any new tech concept that introduced in Smartphones. We saw it in Google Chrome, Mozilla Firefox, or any other desktop and laptop browser for that context. Also, it includes Android TV, Chromecast, Streaming boxes, and other electronic devices. For starters, Google provides a license of digital streaming quality with this certification on any device along with a smartphone. But, in this article, we will limit the discussion to smartphones. On that note, here is how to check the Widevine L1 support on your device.
---
How to check Widevine L1 support on your device:
Before we talk about the Widevine L1 support, let us summarise its meaning and significance in your device. As mentioned earlier, Google provides this Widevine certification under digital rights streaming. So, there are two types of this certification. They are Widevine L1 and L3. The L1 certification implies that your device can stream any digital content in HD quality. The HD quality here ranges from 720p to 4k. It depends on the display of your smartphone.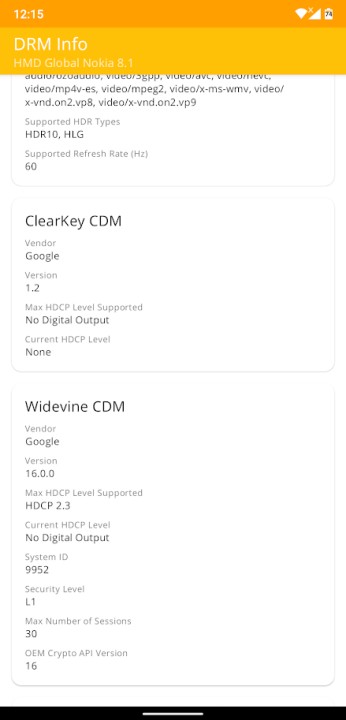 On the other hand, for L3 certification, the streaming quality falls to only SD. It means that it has 480p or lower resolution. From the above statement, it understands that everyone will choose L1 over L3 anytime. But, not all smartphones come with Widevine L1 certification. To make it even worse, brands not even mention this thing. So, here is how to check the Widevine L1 on your device. 
First, click here and download the DRM Info app on the play store. Wait for a few moments until the app gets downloaded and installed on your device. After that, open the app and scroll down to find the security level. Here, you can see the Widevine L1 or L3 depends on your device. It is as simple as that. 
Another thing to mention is that some smartphones which earlier had Widevine L1 may lose it with an OTA update. To explain it further, Google Pixel 5 users have reported that their device certification has fallen from L1 to L3 after the security patch update. So, it may be due to multiple reasons. For instance, in the past, OnePlus had called back their 5 and 5T phones to fix them at the factory. Thus, keep an eye on this fact before updating your device. Anyways, Google has noticed this issue and working on an update. 
---
Conclusion: 
In short, Widevine L1 is always preferred over the L3. So, you can download this simple app and check your device certification. In the same way, cross-check such bugs and then update your device. On that note, share this awesome app and news article with your friends and binge watch squad.