If your LG TV shows an error message "this app will restart to free up memory" you have landed on the right page.
Here, we have provided the reasons why it may happen and how to fix it.
The LG TV has traditionally been a popular option among consumers who want a high screen resolution as well as more complex and innovative features.
It is common knowledge that LG produces high-quality electrical goods. However, some customers who have purchased televisions from this manufacturer have complained about the way they function.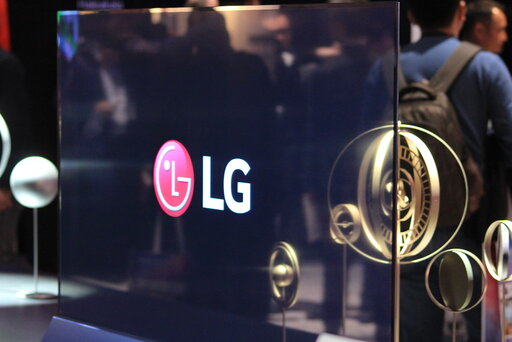 You are not the only person who has encountered the problem where their LG smart TV displays the message "This App Will Now Restart to Free Up Memory" in the upper right corner when they are using apps such as YouTube, Netflix, Disney Plus, Amazon Prime, the LG smart TV browser, or other apps.
In this tutorial, we are going to show you numerous methods to cure the LG TV app restart issue in 2022. These solutions are based on what worked for us and other users who had a similar experience and were looking for a solution to the same problem.
---
Why does LG TV keep saying this app will restart to free up memory?
Short answer: LG TV keeps saying that this app will restart to free up memory because it's out of date, you've added more apps, or the TV's memory is full.
Because the LG name is so well-known, there's really no need for us to describe what they sell. They have demonstrated that they are more than capable of supplying the globe with televisions that are of high quality and can be relied upon, so there is no need for anybody else to speak on their behalf about this matter.
You must keep this in mind: the amount of storage space with your smart TV cannot be compared to the storage space with your desktop computer or laptop. A smart TV uses fewer resources and has less memory than a traditional TV.
Pandora, Netflix, and Hulu are often pre-installed on all current smart TVs. These content delivery systems are incredibly fast, which allows them to quickly fill up the little memory that is available over time.
Reason 1 – Outdated firmware
The LG smart TV was developed with great performance in mind and is equipped with a number of cutting-edge capabilities. You need to do an update to guarantee that they are operating on the most recent software and that they do not display any problems.
In the event that your smart TV is operating on an outmoded software version, it is possible that it may display performance lags and glitches.
---
Reason 2 – Extra apps
The applications were reset to clear up memory space on the LG TV; the memory issue may have been caused by the fact that there were too many apps installed on the TV.
For those, you need to navigate to the LG TV's settings, find the applications that are presently installed, and then uninstall the ones you won't be using.
---
Reason 3 – Memory has been clogged
when the LG TV's internal memory is insufficient to keep the app running, a notice will appear on the screen of your LG TV. This memory issue may have been caused by installing an excessive number of apps, an accumulation of cache files caused by apps that have previously been installed, or corrupt app files.
---
How to Fix LG TV this app will restart to free up memory
After devoting a significant amount of effort to researching potential alternatives, we were ultimately successful in doing so, and the message "this app will restart to free up memory" is no longer displayed on our screens.
You may repair the problem with the LG smart TV's app memory by attempting the techniques and solutions listed below to free up space and fix the problem.
Method 1 – Power cycle LG Tv
A significant number of customers who experienced the identical issue have claimed that a brief power cycle resolved the problem entirely for them in its entirety.
It is possible that you still have a lot of apps running in the background taking up memory space; if this is the case, performing a power cycle or soft reset on your TV will clear the system memory, close all open apps, and remove any stored session date. This will effectively free up memory space that can be used to run apps.
Step 1– Ensure that your LG TV is unplugged from the power socket.
Step 2– Take it out of the outlet and let it sit for a minute.
Step 3– To turn off your TV when it is disconnected, press and hold the power button for half a minute
Step 4– At long last, reconnect the television set to its power supply and power it up.
---
Method 2 – Turn off the quick start
When you switch off your LG smart TV, the Quick start function retains it in standby mode, allowing it to start up more quickly the next time you want to turn it on. This feature is only available on LG smart TVs that have the Smart Hub interface.
However, if you leave your TV in standby mode, part of the RAM on your TV will be allocated to ensure that this function continues to work properly on your smart TV. You will, in effect, be freeing up this space, and it will then be accessible for use to run applications such as Netflix, Disney Plus, YouTube, Hulu, or others on your LG smart TV.
Step 1– To turn off the quick start function, go to the Settings menu and select All Settings.
Step 2- Next, select the General settings menu option.
Step 3– Disable rapid restart by going to the general settings and turning it off.
The LG TV app restart problem should now be resolved when you have finished restarting your LG TV.
---
Method 3 – Clear browsing data
This is another piece of advice that has been successful for a large number of people who have had a comparable experience. The reason for this is again self-evident: surfing data may quickly accumulate, and files can be rather huge, particularly when the browser is used for streaming content.
Step 1- To begin, launch the web browser on your LG smart television.
Step 2– After the app has been opened, select the "menu icon" located in the upper right-hand corner, then select "Settings" from the options that drop down.
Step 3– Turn on private browsing by selecting the settings page and selecting the option. Doing so will prevent browsing data from being kept in the future, which is a potential source of the problem.
Step 4- To finish, select the "clear browsing data" option.
---
Method 4 – Check for software update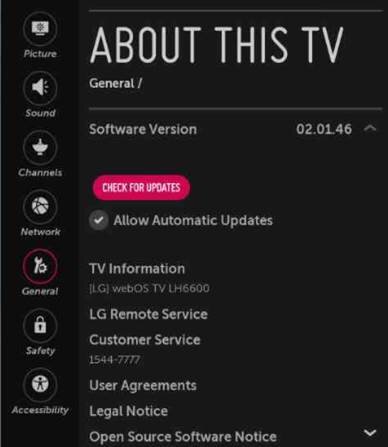 The LG TVs are fairly high-end and intricate pieces of electronic equipment. As a consequence of this, there is a group of devoted professionals quietly toiling away in the background, making certain that the software is always up to the challenge of running its more complex functions.
Step 1- To access the general settings, navigate to Settings > All Settings > General.
Step 2- Scroll down and click on About This TV
Step 3- Simply select the "Check for updates" button.
Step 4- If there is an available update, you will be prompted to download it; proceed and select the Yes option.
---
Method 5 – Reset TV to factory settings
The LG app restart problem can also be fixed by resetting the smart TV to its factory default settings. This will delete any and all applications and files that may be to blame for the problem.
It is also referred to as the hard reset, and the steps to perform it are as follows:
Step 1– Navigate to Settings > All Settings > General on your device's menu.
Step 2– Now, scroll down until you locate Reset to Initial Settings. Click on it.
Step 3– You will get a prompt asking you to confirm that you wish to continue with it; when you see this question, click the OK button.
---
Method 6 – Use Ethernet
You will need to give your connection to the internet very little thought while using a smart TV, which is one of the features that makes them so appealing.
Therefore, if you are connecting your LG TV to a wireless network, you will need to turn off the wireless connection and select the ethernet cable instead. This is because the ethernet connection optimizes the connection, allowing the apps to function without any problems.
---
Method 7 – Contact customer care
Your last option is to call LG technical support staff to help you get your TV repaired. You can get in touch with LG by calling them on their direct line, which is 1-833-378-0003.
You can also talk to them through their Facebook or Twitter page, or you can use the option to chat online with them.
---
FAQs
Q1- How do I clear the memory on my smart TV?
You will need to clear the cache on your PC before you can delete anything from the memory of a Samsung TV. Simply depress and hold the power button on the remote for ten to fifteen seconds to bring about the desired effect. This is the most straightforward approach of erasing memories.
---
Final Words
It is all we have to provide for this particular remedy. In the event that you have attempted all of these solutions without success, we strongly advise that you get in touch with customer support so that they can assist you in resolving the issue and seeing whether it can be resolved.
---
Further Reading:
How To Fix My5 Not Working On LG Smart Tv
Fix YouTube not working on Smart TV (Samsung, Vizio, LG)
Technical writer and avid fan of cutting-edge gadgetry, Abhishek has authored works on the subject of Android & iOS. He's a talented writer who can make almost any topic interesting while helping his viewers with tech-related guides is his passion. In his spare time, he goes camping and hiking adventures.
---
Stay connected with us for the latest updates! Follow us on Telegram and Twitter to join our vibrant community and never miss out on any exciting content."