WhatsApp sports a lot of privacy and security features for its users. Users can block a contact and restrict their account's accessibility.
Another feature that helps users restrict someone is the 'Mute' feature. 
When a user is blocked on WhatsApp, they easily get to know about it by checking some signals. But, users wonder if there are such signals to check if they are muted.
Well, in this post, we will discuss if there is any way to know if someone muted you on WhatsApp.
---
Can you tell if Someone Muted you on WhatsApp (Status & Chat)
No, there is no possible way to tell if someone muted you on WhatsApp status or chat. WhatsApp keeps the status of a chat setting private to the owner. So, if you are muted by someone on WhatsApp, you won't be notified about it.
Moreover, there is no way to find out if you have been muted. You might see multiple solutions on the web and Youtube, but in reality, none of them works. We have tried and tested every possible trick.
Nonetheless, we will take a look at some of the methods and indicators which might help you find out if you are muted. Before you proceed, we suggest you keep your hopes and expectations low.
These methods only tell you the probability of you being muted. And if you are ready to know the details, let us dive right into the details.
---
How to know if Someone Muted you on WhatsApp
WhatsApp doesn't notify the user if they have been muted by someone else, and in our research, there is no method that can tell you for sure if someone has blocked your chat or status.
The method we provided in our post simply helps find out the possibility of you being blocked by someone.
If the mentioned method doesn't suit or make sense, you are free to proceed with the next one.
1. Observe changes in pattern
If you have been talking to someone for a long time, you might have observed a pattern or behaviour when using WhatsApp. The pattern depends on one's work, eating, and even sleep schedules.
If you have been chatting with them for long, you might probably be aware of the time when they pick up their phone after work to use WhatsApp. And if they leave their message unread after getting free from work, it is possible that you have been muted.
This could also mean that they did not get time to check their phone. So, you need to observe the pattern for a few days to be sure.
Even if you observe changes in the patterns, it doesn't tell you for sure if they muted your chat, as they might have chosen to ignore messages without even muting you. We suggest you check other methods in the list.
---
2. Send message in a common WhatsApp group
If you and the person, who you think muted you, are added as participants in the same WhatsApp group, you can try observing and compare the activity there.
You need to send a message to the group and their personal chat. And check if the message has been read by them. And if the message has been read on the group but not on the personal chat, it could mean your chat has been muted.
To check the list of people who have seen your message, you just need to select the 'Info' option. Follow the steps below –
On iOS
Step 1: Open the group chat. Long press on your message bubble.
Step 2: Select 'Info' from the available options.
On Android
Step 1: Open the group chat. Long press on your message bubble.
Step 2: Select the three-dot icon from the top right corner.
Step 3: Now, select 'Info'
---
3. Send message on a different platform at the same time
Just like the previous method, where you sent the message to the group as well as to the DM. This method includes sending messages through a different app like Instagram, Snapchat, or FB.
Send a message on WhatsApp chat and on Instagram DM. If the user is only responding to/reading the messages sent on your Instagram, it could mean your WhatsApp messages are not triggering notifications on their device. It is possible that you have been muted on WhatsApp.
---
4. Ask a common friend for help
If you have a mutual friend to the user, who you think has muted your chat or status, you can ask them for help.
You just need to send a message and ask your common friend to do the same. If the posted status and sent messages by your friend and you are treated the same way, it could mean that you haven't been muted. We are talking about the possibility; nothing can be said for sure!
On the other hand, it could also mean that both of you are muted. You never know!
---
5. Ask them directly
Last but not least, the only way using which you can tell for sure if you are muted or not is by asking them directly.
Yes, we know it can be a really awkward moment. You can also find other ways to understand whether they are interested in receiving your messages.
---
If someone muted you on WhatsApp can you see when they are online
Yes, you can see when a person is online on WhatsApp, even if they have muted you.
The mute feature in WhatsApp works for both chats and statuses. If you mute a contact's chat on WhatsApp, you will receive all their texts and images on the chat, but there won't be any notifications for it.
The messages will be delivered silently without triggering notification sounds and pop-ups on the screen.
It is entirely different from the blocking feature on WhatsApp. You won't get their text, calls, or anything when you block someone on WhatsApp. And they won't be able to see your online status.
But muting someone is not as harsh as blocking someone. This feature is generally used for someone who you cannot block on WhatsApp but receiving their messages and notification makes you feel disturbed.
The muting feature can be used for a contact's WhatsApp status as well. So, if their status updates bother you, muting can be a solution.
When a user mutes you on WhatsApp, they just restrict your messages and status to trigger the notification. Everything else remains almost the same. That's the reason why you can see a user's online status even if they mute you.
---
Conclusion
WhatsApp might not notify you if you are muted by someone on WhatsApp, but there are a few methods that might help you find out about the status.
In this post, we discussed all possible methods to find out if someone has muted you on WhatsApp chat or status.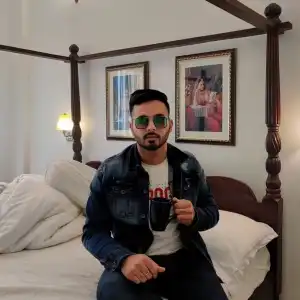 Ankit is an engineer by profession and blogger by passion. He is passionate to do all the stuff such as desiging the website, doing the SEO, researching for the content, writing tech blog posts and more.
---
Stay connected with us for the latest updates! Follow us on Telegram and Twitter to join our vibrant community and never miss out on any exciting content."