Koo is the Indian alternative to Twitter. Also, it is promoted by the Government of India, and our Honourable Prime Minister Narendra Modi. Along with this, the app is completely made in India. On top of that, the investors are also from the country of India. In this way, it makes Koo a complete Made in India app. 
To promote this thing, many politicians, government officers, and media have started using Koo. Also, they recommend the same to their followers and viewers. Even we recommend you to use Koo and share the same with your friends and family members. So, for this, first, you need to create an account in the app. 
Along with the entry to any app or service, it is equally important to know how to exit. So, the same holds for Koo. Let us list down a quick guide on creating a new account on Koo through your smartphone, desktop, or laptop. Also, we will help you out with how to delete the account. Now, deleting the account implies that it will erase every trace related to you. So, let's get started. 
How to delete your account in Koo: 
As mentioned above, let us first discuss how to create a new account on Koo. In simple words, creating an account on Koo is so easy and straight-forward. To begin with, you need to download and install the app. If you use an Android or iOS device, download the official app from Google Play Store or Apple App Store. On the other hand, for Windows and Mac, you can visit the official website here. 
The good part is that you only need your phone number to create a new account on Koo. It also implies that there are some other missing blocks. So, it does not support third-party API login portals through Google, Facebook, Apple, etc. Anyways, back to the process. After installing the app, open and enter the phone number. Next up, verify the number through a 4-digit OTP number on your device. 
Once you have done that, select the language, people you want to follow and get directly to the feed. In the setup process, there is an option to upload the profile picture. You can skip this and move forward. Apart from this, there is no mandatory detail that Koo asks its new users.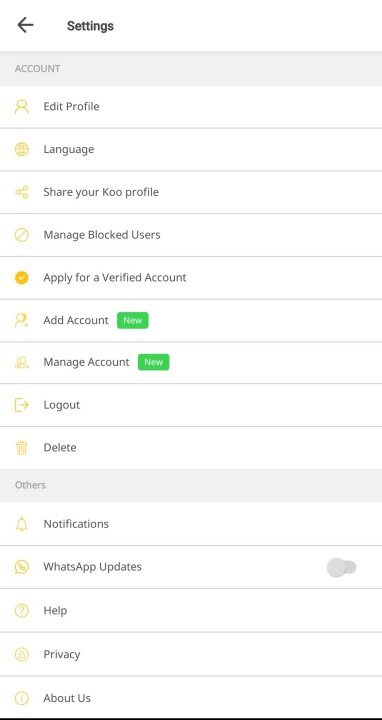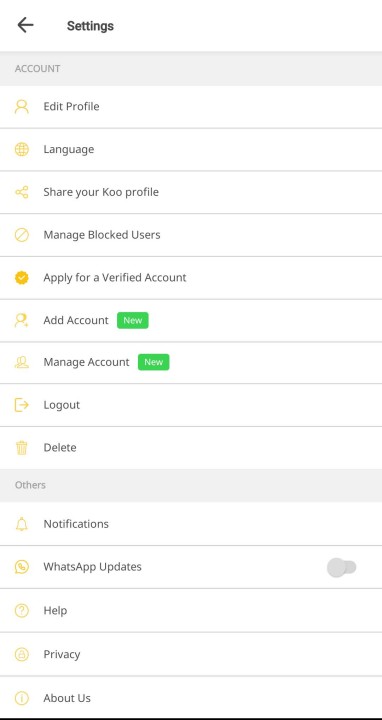 Now, here is a quick guide on how to delete your account. You need to open the app and click on the profile at the top left corner. Now this redirects to your account page. Here tap on the Settings icon on the top right corner and scroll down to find the delete account option. Lastly, tap again on delete, and that's it. 
Conclusion: 
In short, this is how you can delete the Koo account. But do note that this works only for Android or iOS devices. If you wish to do the same on the browser, unfortunately, there is no option available. Lastly, share this with your friends and family as well.