TFM Tool is a powerful service tool designed for MediaTek powered devices. The TFM Tool supports all the leading smartphone brands providing professional software servicing. Additionally, the TFM Tool is open-source software that can be used to conduct a series of operations.
The TFM Tool provides a wide range of compatibility. It extends support for Windows 7, Windows 8, and Windows 10 (32-bit and 64-bit). The user-interface is clutter-free containing all the features that users have longed for ages. Using the TFM Tool, even a newbie can perform complex operations without the use of any guidance or support.
The TFM Tool is an endeavor into the world of smartphones. It does not demand any prerequisite knowledge for use. The TFM Tool provides a scroll of features that may prove to be vital in the virtual world. The features it provides ranges from industry standard to highly sophisticated ones that can only be found on this specific tool.
What is the list of features of the TFM Tool?
Dump Firmware
Reboot to Meta
Factory Reset (Meta)
Factory Reset
Firmware Flash
Reset FRP lock
Reset Privacy
Network Unlock
Bootloader-Unlock
Provision of Hardware information
Remove Screen Lock
NVM/EFS
Repair IMEI
Add IMEI
Perform Root operation
MDM Lock Removal
Read/Write Service
How to download the TFM Tool?
Disable any Antivirus software present on the Windows PC/Laptop. Antivirus software takes the shape of a firewall disrupting the flow of the procedure.
 If any older version of the tool is present on the Windows PC/Laptop, delete it. Proceed to download the latest version of the TFM Tool from the link provided.
Once installed, extract the contents of the file to the desired location. Now, click on 'TFM Tool V2.0.3.exe'.
The TFM Tool gets launched.
The list of options is given in the tool. Choose the device being used followed by selecting the operation that has to be performed.
Once the operation is chosen, the TFM Tool does the rest of the work.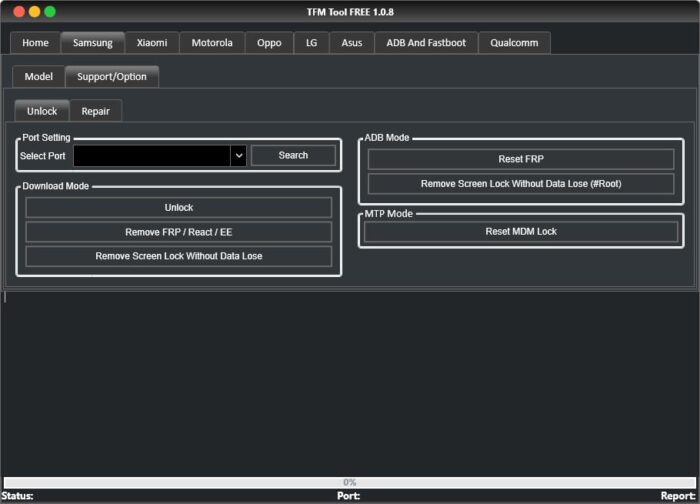 Download the latest version of the TFM Tool:
Download TFM Tool-V2.0.0 (Older Version)
Conclusion:
The TFM Tool is an all-in-one utility tool that contains tons of features. It also extends support for all the leading smartphones in the market. The number of features it has to offer is simply mind-boggling.