Realme has emerged as a wild card contender in the race of smartphones. From not even being in existence before 2018, it has now become a leading brand in the smartphone industry. Realme has provided great specifications and features at aggressive prices which attracted a majority of India's budget-oriented smartphone buying class. Aside from hardware specifications, Realme boasts of some exclusive software features like its own operating system called ColorOS and their own UI called Realme UI. While the UI has been there for years with regular additions, a new UI 2.0 update was recently announced by the manufacturers.
Realme UI 2.0 brings along a great scope of customization, security, and other miscellaneous features to Realme smartphones.
Realme UI 2.0 Features –
• Invisible Door
This security feature prevents data leakage by sending empty data to apps that try to access personal information.
• Private Safe
Users are provided a vault where secret apps can be stored, secured with a password.
• New Themes And Colors
Realme UI 2.0 is loaded with 5 new color combinations and 10 single colors for interface customization.
• Security Shield
Provides site blocking, call blocking, payment security, and app permission security.
• Updated Always On Display
For the first time in any smartphone UI, the Always On Display is fully customizable and has 5 different themes.
• New Dark Mode Settings
Dark Mode has now three styles; Enhanced, Medium, and Gentle.
• Floating Windows
Realme UI brings 2.0 introduces a system-wide picture-in-picture mode that works with every app that can stream or play videos.
• Sleep Capsule
This feature helps with sleep tracking. It also limits the number of times the smartphone can be used at the time of sleep.
There is no set date for the release of a full version of Realme UI 2.0. However, Realme has started rolling out early access versions for specific Realme models. Here's a little guide to which devices are eligible for the rollouts and when to expect them.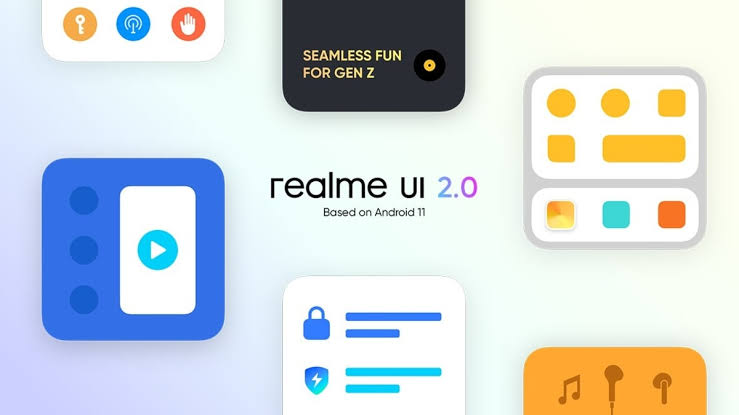 Realme UI 2.0 Eligible Devices & Schedule
As of yet, a total of 21 Realme smartphones are eligible for the early access rollouts. It includes models from the X series, the C series, and the Narzo series amongst others.
The rollouts are to be released in 7 windows and here is a detailed look at them.
---
September, 2020 :
Realme X50 Pro
November, 2020 :
Realme 7 Pro, Narzo 20
December, 2020 :
Realme 7, 6 Pro, Narzo 20 Pro, X2 Pro
January, 2021 :
Realme X3, X3 Superzoom, X2, 6, C12, C15
February, 2021 :
Realme 6i, Narzo 10
March 2021 :
Realme C3, Narzo 10A
Second Quarter Of 2021 :
Realme X, XT, 3 Pro, 5 Pro, Narzo 20A
---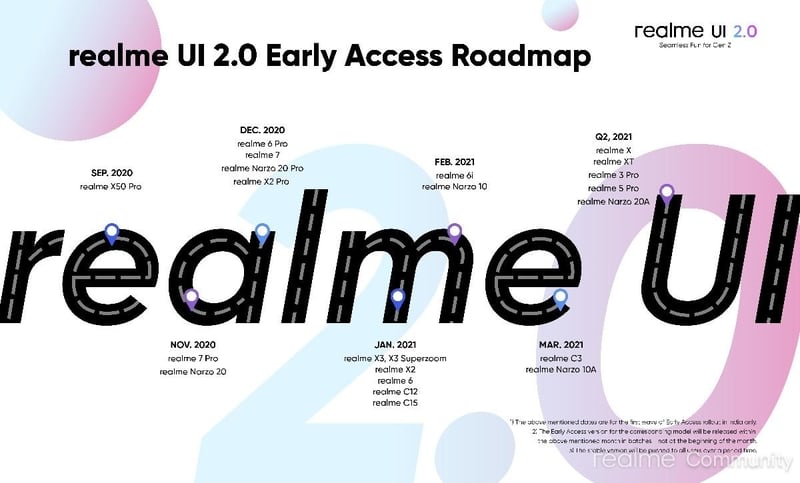 The remaining smartphone users will have to wait for longer to get the early access rollouts. An official full release of Realme UI 2.0 will take even longer.