Paramount Plus is the new upcoming player into the game of streaming platforms. Now, Paramount Plus is all set to compete against its rivals and withstand its position. Some of these include Amazon Prime Video, Netflix, HBO Max, YouTube TV, etc. But, to stand, Paramount Plus has its strengths with the latest movies, original shows, live TV channels, and more. 
Also, do that Paramount Plus is not any new platform altogether. Instead is a sort of rebranding to the already existing CBS All Access. Now, it's not just that the name is changed. Indeed, Paramount Plus has its take with the inclusion of even more content to watch. Despite all these, the subscription fees remain the same and even goes lower. So, here is all you need to know about the release date, offers, etc. 
---
Paramount Plus Release Date, Offers, and more
As mentioned earlier, Paramount Plus is the rebranding of CBS All Access. It implies that the old customers of CBS service will automatically float to this new service. Apart from that, Paramount Plus also brings some other distributions and channels onto the board. Nick network, Comedy Central, MTV Network. are just a few of them. Not to mention, what you used to get with CBS All Access will remain the same. 
Moving on, it also features more than 50 different titles of original series and shows. You can watch from around 2500 movies and 30k+ episodes of various shows. Another major highlight is that they plan to bring the latest movie releases within just a few days of theatrical release. But it is understood that this holds mostly for the releases under the Paramount Pictures banner. 
Now, Paramount Plus is all set to release on March 4 this year in the United States. Also, on the same day, the existing users can access the new Paramount Plus release. Coming to the subscription plans, there are two types. One of these comes with limited ad support (Base Plan) and starts at around $4.99 per month. On the other hand, the ultimate one is the Premium plan that starts at $9.99 per month.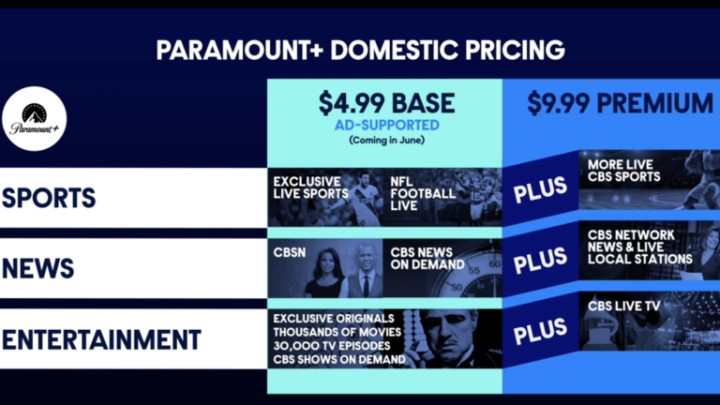 It is important to note that with the base subscription you miss out on CBS Live TV content such as news, sports, and local stations. But, we can see that the price has fallen to half the actual amount. The base plan should be well and good for first time users or those who do not watch Live telecasts. On a side note, the annual prices of both these plans are around $49 and $99. 
As a promotional release, the company has decided to offer a flat 50% on the annual plans. It means that you can subscribe to the base and premium plan for $30 and $50 annually. These prices are effective only if you pre-order the service and apply the promo code 'PARAMOUNTPLUS' on the order page. 
---
Conclusion: 
Overall, Paramount Plus seems to offer a wide range of library for the price. Now, it is more important to see how it will withstand in the future. For this to happen, they should constantly work on the new releases. So, do check out the latest platform on a 7 days free trial. Also, share this word of news with your friends and family network.