MIUI 12.5, as the version name says, is exactly the intermediate version of the already launched MIUI 12 and hopefully upcoming MIUI 13. Basically, in a broader sense, MIUI 12.5 is the MIUI 12 built on Android 11 unlike 10. But if we dig deeper, there is more than just a bump in the android version. So, let's have a closer look at the newly launched MIUI 12.5. Also, we will look at the list of eligible devices for this update.
The basic idea behind MIUI 12.5: 
Before getting to the actual changes or improvements in MIUI 12.5, let us first understand what is the need. Like they can truly bring the new update after the new Android version comes in. The main reason here is the timeline. Actually, Xiaomi updates its MIUI around Q2 every year. On the other hand, the official release of the new Android version kicks in somewhere around September. So there is a pretty sweet gap of around 3 to 4 months.
Instead of waiting for the official release, they start working on the MIUI update. It is also beneficial for them as well. Because this gives the developers of MIUI improving the features along with the bump in the Android version. Also, there is a marketing angle to it. Consider they release their new MIUI alongside the Android version. They may not get huge coverage from media and people as people will rush towards Android first. That being said, MIUI 12.5 still makes sense as their half-yearly report. And this will continue with the further MIUI updates.
---
MIUI 12.5 Features and List of Eligible Devices:
Coming to MIUI 12.5, as mentioned earlier, it is the improved version of the former release MIUI 12. So, in this way, it does bring those features from the book of MIUI 12. These include 3D animations and representation charts of settings, storage, etc. Also, you do get those cool super wallpapers, control center, Dark Mode 2.0, floating window, and much more.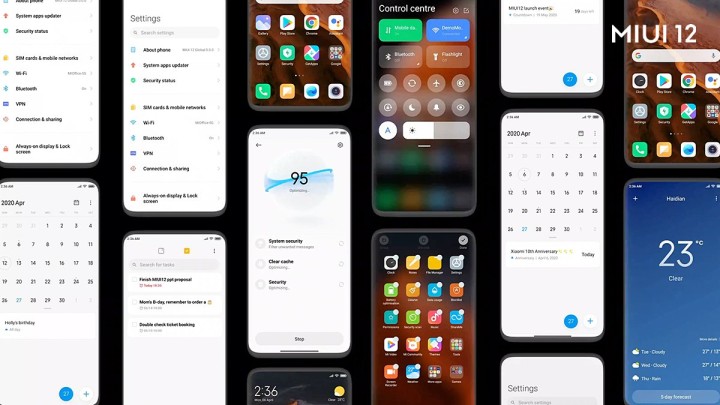 Long story short, the new MIUI 12.5 has all the features from MIUI 12, and in specific, it has had some of them even better. Starting with the indicators, you do get new indications for volume, media controls, power menu, and battery. Talking about these indicators, MIUI 12.5 also brings new animations that look minimalistic and clean.
Next up, now you get the option to view your recent apps horizontally as they used to be in Android. Literally, I was not a fan of those split recent apps menu. There are some fine tunes in Camera UI, notifications shade, control center, etc. Not to mention, they have also included a quick app that lets you convert your photos to PDF. Again this is extremely useful for students and employees in the era of online classes and meetings. Lastly, it adds Android 11 features of bubble notifications, notifications history, media controls, and others.
All that is fine but what matters more is the list of eligible devices. So, here is how the list goes:
Redmi Phones: Redmi 7A and above, Redmi Note 7 and above, Redmi K20 and above.
Mi Phones: Mi 8 and higher, Blackshark 2
Poco Phones: Poco F1, X2, X3, C3, M2, M2 Pro.
---
Conclusion: 
This list is really appreciable as they are trying to provide the update to most of the recent phones. Also, a note is that his update will start rolling from December. So, make sure to let your friends know about this new who, obviously, own a Xiaomi phone.