Lightspeed is a new and powerful virtual machine app for Android. It has some of the useful features that make it stand against VMOS Pro. In other words, Lightspeed is a good VMOS Pro alternative. So, starting with the name, it has two terms light and speed. To no one surprise, the app holds both the words precisely. It is lightweight yet with speed and performance. 
Now, in this article, we will cover everything that you need to know about Lightspeed. We will provide you with a proper download process, set up guide, and some app settings to enhance the experience. So, with that out of the way, let's get started with Lightspeed. 
---
What is Lightspeed, How to download and use it, What are the features to know? 
Before getting to the Lightspeed app, let us take a bit to understand the use of a virtual machine. As the name suggests, a virtual machine creates a false operating system within the same device. It is similar to installing any custom ROM on your Android device. But the only difference is that you no longer need any root access. So, you can have a glimpse into custom ROM without TWRP, Root access, flashing, etc. 
Now that you have understood the term and use of Virtual machine, here is how to download the app. First, click here, and it will redirect you to the official website. Here, on the home screen, you can see that there are two categories of APK files. They are 32 bit and 64-bit versions of Lightspeed. Depending on your device model, download the correct version of Lightspeed. 
Once the file downloads, open it and install it right away on your device. Now, open Lightspeed and swipe right through a couple of tiles. After that, click on the bottom bar that mentions let's go. Finally, allow all the required system permissions, and you are all set to use the app.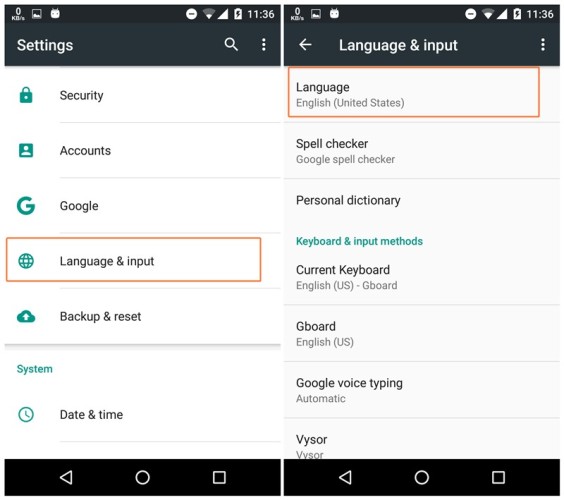 But wait, the moment you open the app, you will notice that everything is in Chinese. Yes, it is indeed a Chinese app, so the default language is Chinese. Anyways, you can change this in the settings. First, swipe up to open the app drawer and open the settings. Here, scroll down to the end and click on the languages and region section. One can identify it with a globe icon to the left. Now, click on the first option, followed by a + icon. Here, add English or any other language of your wish, and then drag it to position one. 
Now, the whole thing is a lot easier. Indeed, you can change the app to any other language as well. But, if you want an alternative to this, then you can try Hi Dictionary. It is a simple Dictionary app with a floating live translation icon. Move the floating icon to any sentence, and it will translate instantly. Coming to Lightspeed, it comes with some useful features such as Google Framework support, Superuser, Display resolution, refresh rate, camera focus, phone model and other parameters. 
---
Conclusion: 
Overall, Lightspeed is a good VMOS Pro alternative with Android 7.1.2 Nougat under the hood. Apart from that, some useful and exclusive features make Lightspeed shine in its way. So, hopefully, this article was helpful and guided well to download and use it. If so, consider sharing this with your friends and tech geeks who are fond of virtual machines and other such apps.