Instagram is a social media website/application that is used and loved by millions worldwide. It allows users to view, like, comment, and upload photos/videos. It is available on a majority of platforms. In today's day and age, creating a social media presence has become a necessity. It allows individuals from all over the world to connect with each other through a smooth, clean, quick, and secure platform.
Owned by Facebook, Instagram has gripped the attention of the masses. Instagram has gained popularity in a short span of time using the scroll of features it has to offer. While social media can help an individual to establish an online presence, it can also be used to let off some steam. Factually speaking, Instagram can also be used as an editing application.
Instagram takes the shape of a search engine displaying the data of millions of people with the help of a powerful search bar. Apart from this, it also helps an individual keep up with the trends in terms of fashion, food, technology, places, gadgets, and much more. All in all, Instagram has become a source of general knowledge.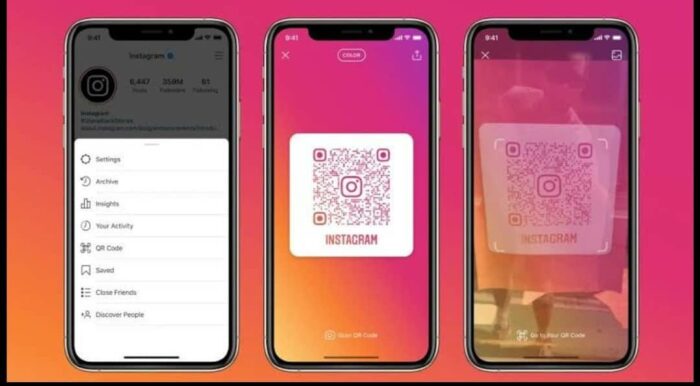 Instagram succeeds in dominating the digital market for a variety of reasons. With over a billion downloads on the Google Play Store, Instagram emerges triumphant in accordance with the statistical numbers. Frequent updates that introduce more features to the table along with bug fixes help in keeping users hooked to the application.
Recently, Instagram added a new feature to the mix that allows individuals to create short videos with desired audio tracks running in the background. The similarity of Instagram Reels to ByteDance's TikTok is uncanny. However, much to the delight of users, Instagram released a major update that turns the world of social media upside down.
QR Codes (Quick Response Code) have become fairly common in the modern era of technology. It is used in a vast number of fields ranging from product packaging to quick UPI payments. QR Codes have also made their entrance to the world of social media.
Instagram rolled out an update in recent times that allows an individual to open a profile using any camera application. Every registered user on Instagram can generate a unique QR code that can be used by other users to track down the location of that specific profile. This feature is a step-up to the previously known Instagram Nametag.
Snapchat is an old player in the game while WhatsApp has just made its entrance known with a QR code for WhatsApp Business. This feature might be beneficial for numerous business-owners who aim to connect with a larger audience. The cherry on the top is that any third-party application can be used to scan the QR code resulting in a limitless mode of operation.
How to use and create your own Instagram QR code?
Launch the Instagram application. Log in to your account.
Head to the menu section of your profile. A list of options get displayed.
Choose the option of "QR Code".
The QR Code gets generated. The background color can be changed by tapping on the screen once.
To use it, click on the "Share icon" on the top right corner to share the code with your social circle. This will make your online presence known.
Conclusion:
The QR Code feature is a handy tool that can prove to be essential in numerous instances. Instagram also unleashes the creative side in an individual by providing a palette of background colors to choose from. On a side note, the QR Code might fail to display in the menu bar in various cases. This implies that the application needs to be updated to the latest version.