Oneplus, the Chinese smartphone vendor, is one of the companies in the world which always put customer satisfaction before anything else. This is the main factor which helped the company to create one of the best communities in the world. 
Oneplus never loses any chance to surprise its community with new offers, giveaways, and exciting events. Recently, Oneplus has organized a special event in Delhi. And at the event, the company showcased the new Oneplus 7 and Oneplus 7 Pro devices, especially for the fans.
Oneplus looks at the Indian market as the most important market, not only this, Oneplus also holds the position of the best flagship device in India. This is the reason why Oneplus launched the Oneplus 5T Star Wars first in India. 
Cut to now; the company is all set to organize another event for its community. And with the Oneplus Music Festival, the famous smartphone maker is going to create history, as it will be the first smartphone brand to host a musical fest. The fest will kick start in November in Mumbai, and the company has already announced the date and venue. The Oneplus Music Festival will be hosted on 16 November at the DY Patil Stadium, Mumbai. 
The company has officially announced the name of the artists. According to Oneplus Katy Perry, the American pop-star will be the first to perform at Oneplus Music Festival. And yes, there are more popular artists on the list
Venue

D.Y. Patil Stadium

Dy Patil Vidyanagar Campus 4 B Sector 7, Nerul, Sector 7, Nerul, Navi Mumbai, Maharashtra 400706
Well, if you are excited already, let us tell you that the Oneplus Music Festival tickets can be booked on Insider.com. But for now, the tickets are not live. But, Oneplus is giving a chance to get early access to tickets. To get early access, you need to visit the link mentioned below.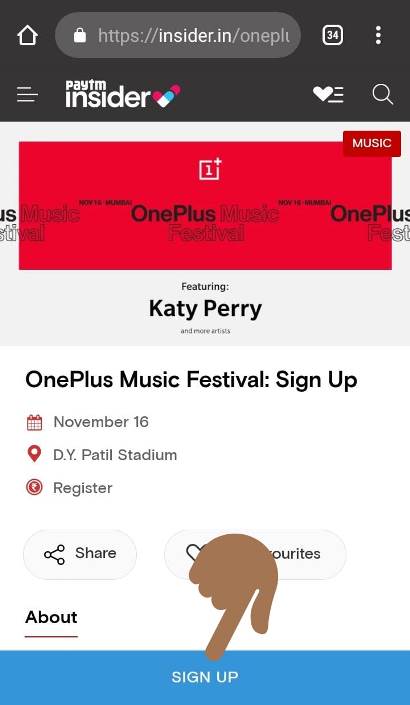 Nothing much to say, too much to write! Love to write about Tech & Games.