Everyone will surely agree to the point that our laptops outperform smartphones in almost everything. Yes almost, that's the vital keyword. Because there are cases when your smartphone does something better than your laptop. Well, you heard it right.
Ever since laptops came into existence they have come a long way but the one thing that still remained almost the same is its camera. Just give a thought. In my case, my smartphone can record in 1080p with its outstanding 20 MP camera. On the other hand, my laptop is capable of taking shots in just 720p and has a mere 0.9 MP camera. I am sure, every one of you lies around the same lane. So, in this one, let us address this issue with a helpful solution.
---
DroidCam Pro: 
With DroidCam Pro you can sort out this issue in just a switch. It lets you use your smartphone camera as a webcam for your laptop. And the quality difference is just remarkable. This app is completely free so no worries there. And as per privacy concerns, this is one of the popular and trusted options. Not to mention, they have listed the mobile app in Google Play and Apple App Store for a long time now.
---
DroidCam Wireless Webcam Pro for PC – Windows and Mac
Now that you have got the app ready let us just dive into the process of downloading and installing the same on your PC. Before downloading and installing the client version for your PC make sure to download the app for your smartphone. It can be found in Google Play Store and App Store under the name of DroidCam. Once that is done, you are good to go further.
On a side note, just try to avoid downloading the software or apps for Windows from unknown sources. It is always better to check for the availability of the official website. You can do this by just typing the name of the developers in Google. It will take you there for sure.
Method 1: (For Windows)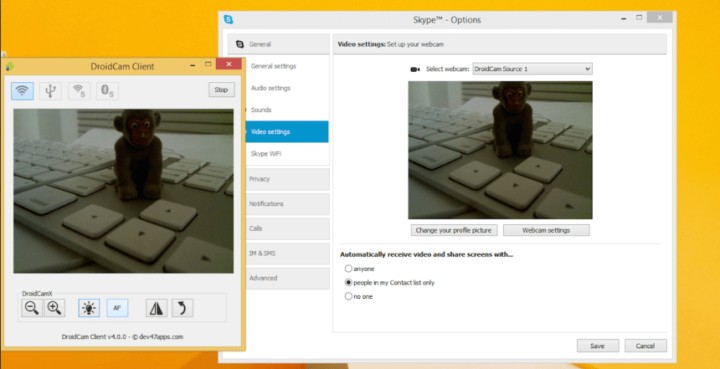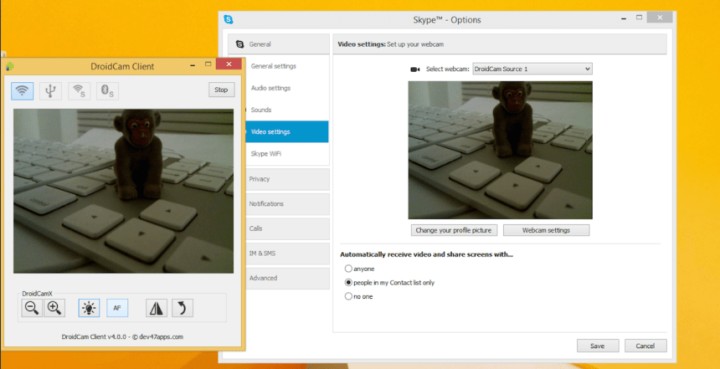 For DroidCam, visit the website of the developer i.e., Dev47 Apps. Over there you will be able to find the download links for Windows and Linux client apps. Just choose the one you use and there click on the download button. After a few minutes of wait, you will be able to open and install the app right away.
Once done, connect both of your devices to the same Wi-Fi network and open a conference app like Zoom, Meet, Teams, etc. Before joining the meeting you will get access to switch the webcam and then simply just switch to DroidCam.
---
Method 2: (For Windows and Mac)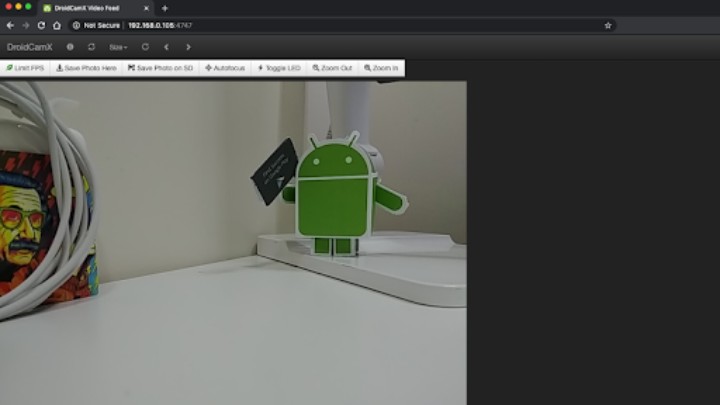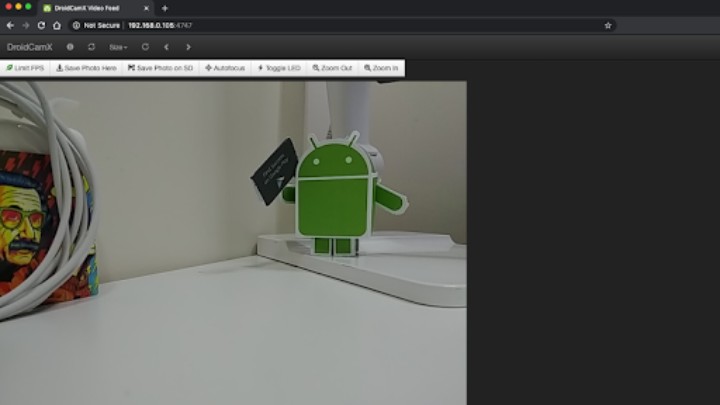 The above one works fine with Windows users but for Mac users, there are some additional steps involved. Not to worry, these are simple and are just a one-time setup. Also, the best part is that this method works with both Windows and Mac OS.
All you need to do is install an Android Emulator like Bluestacks, Nox Player, etc and install it. With that done, log in or sign up with a Google Account into Google Play Store. Right there, search for Droidcam Webcam, download, and install it. After that, just launch the app and the process remains the same i.e., connect both to the same network and start using it.
---
Conclusion:
All in all, this simple tool can help and make difference in a large margin. Also, it makes sense as most of the time you are using your laptop the smartphone just lies there alongside. Moreover, with such simultaneous usage, you will limit to end up browsing something on the smartphone. Lastly, make sure to share it with your friends and stay tuned for more such amazing tools!