Samsung Internet was officially launched in 2015. It is based on the open-source Chromium. Samsung Internet used to be exclusive to Samsung smartphones and smartwatches earlier. Later updates made Samsung Internet available for download across any Android smartphone. The browser comes pre-installed in Samsung devices and can not be deleted. Samsung Internet has maintained a stable fanbase in the mobile browser competition over the years. In fact, Samsung's Internet has more downloads than Firefox and Opera combined on Android.
Samsung Internet Browser Features –
Samsung's browser has a few exclusive features that make it stand out from most of the mobile web browsers.
First up is its Video Assistant. This feature makes the experience of watching videos online better. It lets users fully customize how they want to watch a video on the browser.
Adblocker and content blocker are two useful tools that Samsung Internet provides. You can block all ads and choose to block out specific types of content.
Samsung Internet also provides enhanced security and privacy. There is a biometric web login feature that demands an authorized tace or fingerprints for the user to get access. For privacy, there is a secret mode that can be locked with a password or biometrics as well.
It is also one of the most powerful and memory-efficient web browsers for mobile.
Samsung Internet's last update was seen in June earlier this year when the 12.0.1.47 version was released, based on Chromium 79. The latest 13.0 version is already ready to release and has a beta version available for download. Like the previous versions, this new beta version comes with new features.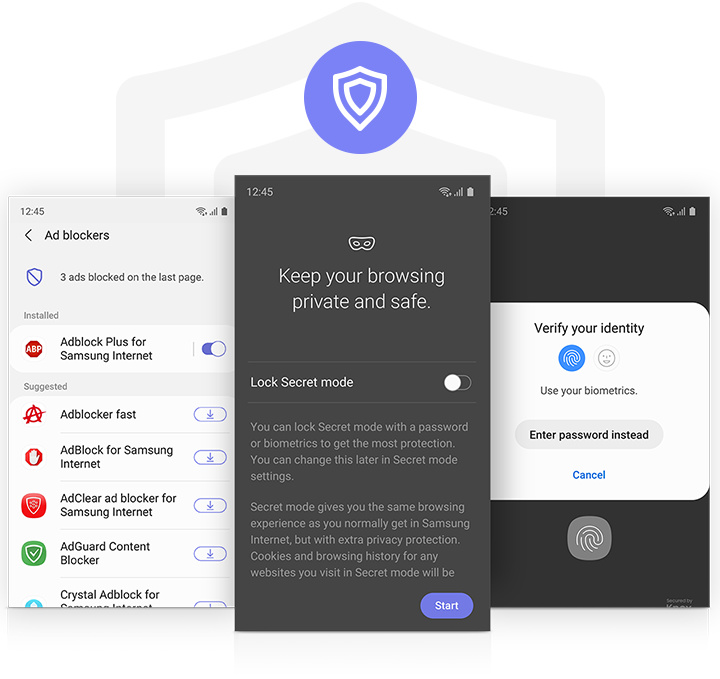 Samsung Internet Browser Update Features-
• The very first update on Samsung Internet 13 is Chromium v79 being replaced by v83.
• Additions of new APIs that are supported by Chromium v83 including webRequest, Proxy, History, etc.
• The design of the browser is revamped to match that of OneUI 3.0.
• Tabs are rounded and status bar can be hidden now.
• Improved Dark Mode and High Contrast Mode.
---
Download Samsung Internet Browser 13
The beta 13 version is already rolling out across devices. It can either be downloaded from the PlayStore or you can download an apk from here.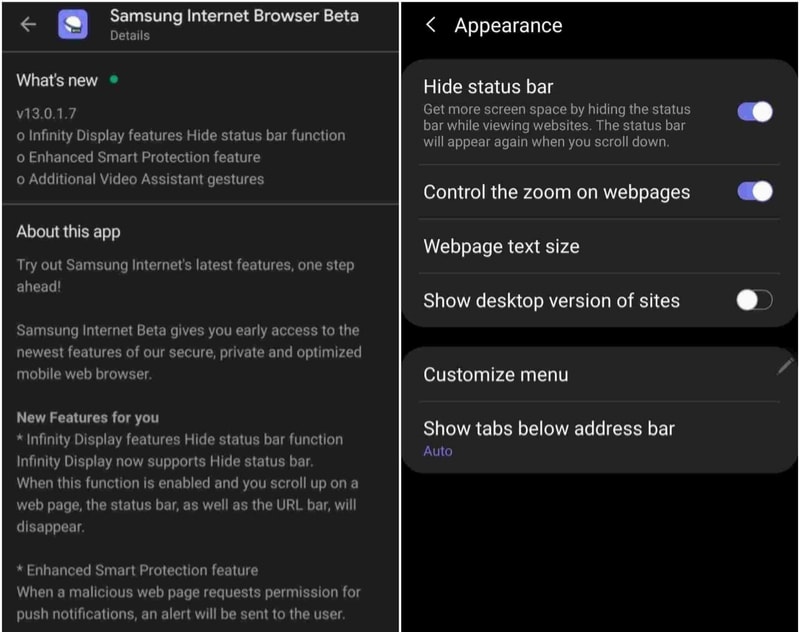 ---
Conclusion –
Samsung Internet is full of features that make browsing safer and more fun. There are many choices for browsers on mobile. It is completely subjective and personal preferences always play a big part. For those who prefer and use Samsung Internet, this is all you need to know about the latest release and have to wait for a full release to look for any extra additions and improvements.