The most renowned battle royale game in India aka PUBG Mobile was banned by the government of India on September 2, 2020, along with other 100 plus apps. As per the Ministry of Electronics and information technology, the banned apps were "prejudicial to sovereignty and integrity of India, defense of India, the security of the state and public order."
After the ban, PUBG corporation KRAFTON signed a deal with Microsoft Azure to host the PUBG games. Well, recently there was an official announcement that PUBG Mobile is coming into the country with a new avatar called "PUBG Mobile India." If you visit the Pubg mobile original website in India, you will get a notice below;
Dear Fans,

To comply with the interim order of the Ministry of Electronics and Information Technology dated September 2, 2020, Tencent Games will terminate all service and access for users in India to PUBG MOBILE Nordic Map: Livik and PUBG MOBILE Lite (together, "PUBG Mobile") on October 30, 2020. The rights to publish PUBG MOBILE in India will be returned to the owner of the PUBG intellectual property.

Protecting user data has always been a top priority and we have always complied with applicable data protection laws and regulations in India. All users' gameplay information is processed in a transparent manner as disclosed in our privacy policy.

We deeply regret this outcome, and sincerely thank you for your support and love for PUBG MOBILE in India.
Well, Several teasers of the PUBB Mobile game were also released after the announcement. Now, several users spotted the PUBG Mobile India Apk download link on the official website.
https://youtu.be/WtMHB-XUADU
PUBG Mobile India Apk Download :
Some PUBG fans spotted the download link of PUBG Mobile India on the official website of PUBG mobile India. Below are the screengrabs and a few tweets from some netizens:
Pubg mobile india website is under construction .
Site kabi b up ho rahi and kabi b down ..
If ur lucky u can access it
link – https://t.co/rlYtrpKvJF

Credit – @imsouravbiltu https://t.co/TgjmHPgY8z

— Extra0rdinnary (@Extreo_) November 20, 2020
Just now saw this page on Pubg mobile india website @PUBGMOBILE @EsportsPUBGM @lameboredghini @Mortal04907880 @TSMentGHATAK pic.twitter.com/7XezboVNUg

— Sonu Dwivedi💥 (@dwivedisonu60) November 20, 2020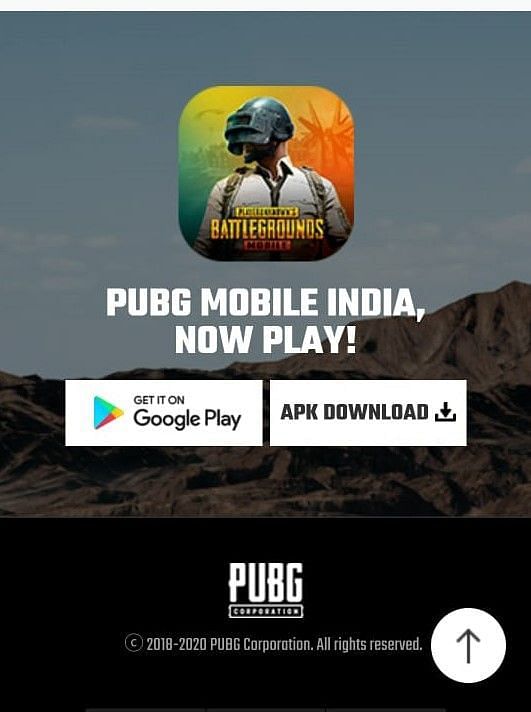 As you can see in the images above, there were two buttons to download the PUBG Mobile India apk. One button is linked to the Google Play store while the other to a direct apk download file. Well, none of the buttons actually worked as said by several users. After clicking the Google Play store button it redirects to a PUBG Mobile India coming soon announcement page, while the direct apk download button took users to the official Facebook page of the PUBG Mobile India.
Well, if PUBG corporation is setting up the things, the game might soon release in India. For the official updates, you can visit the official social media handles and YouTube channel of PUBG Mobile India:
Instagram: Click here.
Facebook: Click here.
YouTube channel – Click here.
Discord: Click here.
---
Download PUBG Mobile Apk (1.1) 
As the PUBG Mobile is banned in India it is not available on the Google Play Store or on Apple's App Store. Also, the PUBG Mobile India version will require some time to finally be available. So, till then you can download the original PUBG Mobile apk and OBB files for Android and iOS devices from the links we have provided below.
Note: For regions where PUBG Mobile is banned (like India), you can use a VPN to download the game.
---
PUBG Mobile 1.0 APK direct download:
---
PUBG Mobile 1.1 update patch notes:
PUBG MOBILE X METRO

All-new collaboration gameplay and progress system
Armed to the teeth, search for the dawn's first light

A. METRO ROYALE – COMBAT

1) All-New Environments

1. Two unique Erangel-based maps, featuring ruins, trenches, a bandit camp, and other new scenes – all waiting to be explored.
2. Explore a new underground world that includes unique combat mechanics and a railcar vehicle. The rewards are tempting, but danger lurks all around you. Watch out for the enemies hiding in the shadows.

2) New Gear

1. Weapons can be equipped with underslung grenades, integrating the ability to blow up enemies into your firearms.
2. An all-new Thermal Sight helps you better discover the locations of hidden enemies.
3. Night Vision equipment gives you the upper hand in pitch-black environments.
4. Cool new Heavy Armor offers even stronger protection.
5. A diverse range of armor attachments that make it possible to further customize the abilities of your armor.
6. Try out the Tikhar Rifle used in the Metro series to experience using a unique, silent air rifle.

3) New Challenges

1. Cunning bandits have been introduced as enemies on the map. Raid them or loot their supplies, but watch out for the elite warriors among them.
2. Special monsters from the Metro series who threaten players from the shadows.

4) New Pursuits

Arm yourself and enter the battlefield, then defeat enemies and search for supplies, score loot, get better gear, and amass a fortune.

B. METRO ROYALE – SYSTEM

Tap the metro tunnel entrance in the Lobby to enter the Metro Royale gameplay lobby, which contains a complete auxiliary system and features, including a black market, loadout inventory, missions, talents, rankings, etc.
1) Black Market

1. The Black Market is the exclusive Metro Royale shop. Players can purchase supplies and new equipment here before starting a match, and can sell the supplies they bring out of Metro Royale for Metro Cash.
2. The supplies available in the Black Market differ from those from the Classic Mode and are divided into different quality levels. The Black Market also offers Metro Royale-exclusive weapons, mines, and other new items.

2) Loadout Inventory:

1. Equipment configured in the loadout can be brought into battle. When you return victorious from the battlefield, items are taken back to the loadout.
2. Items can be stored in the Inventory. Items kept in the Inventory cannot be brought into the battlefield and won't be lost if you are defeated.
3. Items carried in your Backpack will be brought into the match, so remember to include enough ammo.
4. Items stored in the safe will be brought back to Loadout whether you win or lose the match.

3) Command Post

1. At the Command Post, you can check your Favorability with NPCs, read NPC backstories, and give them gifts to raise your Favorability.
2. When you raise your Favorability with an NPC, they'll offer you many useful resources that will improve your odds of survival in the Metro Royale world!

Classic Erangel Metro-Themed Gameplay (coming soon)

1. Underground Metro stations, Metro monsters, and Radioactive Zones will appear on the classic Erangel map.
2. 4 metro lines will be installed in Erangel, with 2 randomly appearing each time. Players can move about quickly by using metro stations.

Winter Festival-Themed Gameplay (coming soon)
A cold wave has hit Erangel, and floating ice has appeared all over the sea surface. Follow the floating ice to find the randomly appearing Winter Castle Paradise, get into jolly snowball fights with friends, and snowboard to your heart's content!

Visit the Winter Festival hut and the gift pine tree that have appeared next to the city, and delight in the festivities with your teammates!

PUBG Mobile Alternatives:
PUBG Mobile is the most popular battle royale title in India with over 50 million monthly active users. While the game is banned in the country users are looking for alternatives to PUBG mobile. Well, fans of Pubg do not like any other title is the market but some alternatives which you can try out are:
Call of Duty Mobile
Fortnite
Free Fire
ARK: Survival Evolved
Battlelands Royale
Rest assured, we will be updating the post as and when more details about the PUBG Mobile India version surfaces online and we will try to update the Download link of PUBG Mobile India Apk as soon as it goes live. Stay tuned!
SEE ALSO: